When it comes to addressing food insecurity with dignity, nobody "gets it" better than Seema David.
Chances are, when coming across a foodbank, you have seen what has become a familiar sight; a line extending from the door to the street. Rain, wind or snow, these individuals wait for hours without guarantee that they will get the support they need. Meanwhile, their hardship is visible to neighbours and passersby. One of the biggest drawbacks of traditional food banks is that users must wait in line "publicly."
In contrast to traditional food banks, 5N2, founded by Seema in 2013, addresses the issue of food insecurity in Toronto's east end with dignity and empathy.
Rather than having individuals endure standing in line, which frequently discourages people from seeking assistance, 5N2 delivers nutritious meals and essential pantry items directly to the doorsteps of those in need, an option greatly appreciated by Suranjit, a single father of two. "You go to a food bank, you wait in a queue, sometimes you might know the people in the queue," said Suranjit. "But here, nobody knows."
5N2's approach eliminates the stigma associated with using traditional food banks as well as ensuring accessibility for individuals who face mobility difficulties, mental health struggles and other challenges. 5N2 offering an empathetic approach to food bank usage, which, given the increase in first-time food bank users, is much appreciated.
"What truly sets 5N2 apart is their unwavering commitment to listening to their clients. Seema understands that each person has unique dietary needs and restrictions," says Rishitha Garapati, 5N2's Public Relations summer intern. "What really attracted me to 5N2 is how they cater to the client's requirements with empathy and understanding, providing meals that nourish the body and the spirit."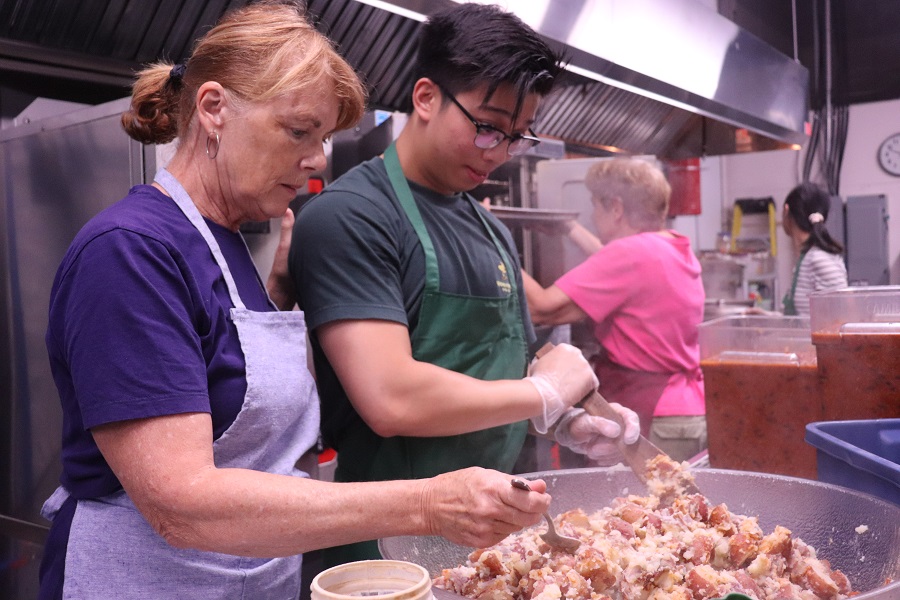 This aspect of 5N2's programs can be lifesaving for clients like Cassandra, who has diabetes. "Since COVID happened, my grocery bill has doubled — and I'm a diabetic, so I'm not supposed to be eating rice and pasta, but if it wasn't for this place, that's what I would be living off of again," said Cassandra. "The fact that I can get nutritious food here is saving my life.
To increase its reach, 5N2 collaborates with the Salvation Army, St. Paul's Food Bank, St. John's Good Neighbors, and several Toronto Community Housing communities.
As a result of witnessing homelessness on Toronto's streets, Seema became determined to challenge traditional food bank distribution systems and has made it her mission to revolutionize the way food banks operate. 5N2 began as a soup kitchen, providing 150 soups three days a week from a local church's kitchen. As food assistance demand rose, 5N2 moved to larger spaces and increased the number of meals they served weekly to meet the growing demand.
Today, 5N2 provides over 3,500 meals weekly and distributes grocery hampers to isolated populations across eastern Toronto's Scarborough district. This August marks a decade of 5N2's dedicated commitment to serving those in need through Scarborough.
Taking an innovative approach to tackling food insecurity, 5N2 is in the process of becoming self-sufficient through its hydroponic garden project initiative.
Hydroponic farms are cutting-edge, sustainable agriculture growing systems that rely on nutrient-rich water and light rather than soil. 5N2 hydroponic farm will be able to produce 2.5 acres of food annually using only 1% of the water used in conventional farming. Another benefit of hydroponic farming is the decreased land usage as plants are grown on 7 ft. high vertical panels within a footprint of just 40 x 8 feet.
5N2's hydroponic tanks have been installed in their newly renovated facility, which they moved into in late 2022. Seema envisions 5N2's vertical hydroponic farming system, which will be operational by the end of this summer, as a stable means of providing a fresh, healthy source of produce for its kitchen and community engagement programs year-round.
Additionally, to create a revenue stream and thus be less reliant on donations and government grants, Seema plans to sell a percentage of the produce grown (e.g., cilantro, lettuce, kale)to local restaurants.
As 5N2 celebrates its ten-year journey of combating food insecurity with dignity and respect, it is worth noting that the same factors contributing to the urgent need for food banks (e.g., hyperinflation, rising food costs) are also causing donations to drop, an unfortunate irony caused by the current economic challenging times.
____________________________________________
Nick Kossovan, a self-described connoisseur of human psychology, writes about what's on his mind from Toronto. You can follow Nick on Twitter and Instagram @NKossovan