Commemorating Indigenous Veterans: A Tribute to Courage and Sacrifice
TDS News
November 8, 2023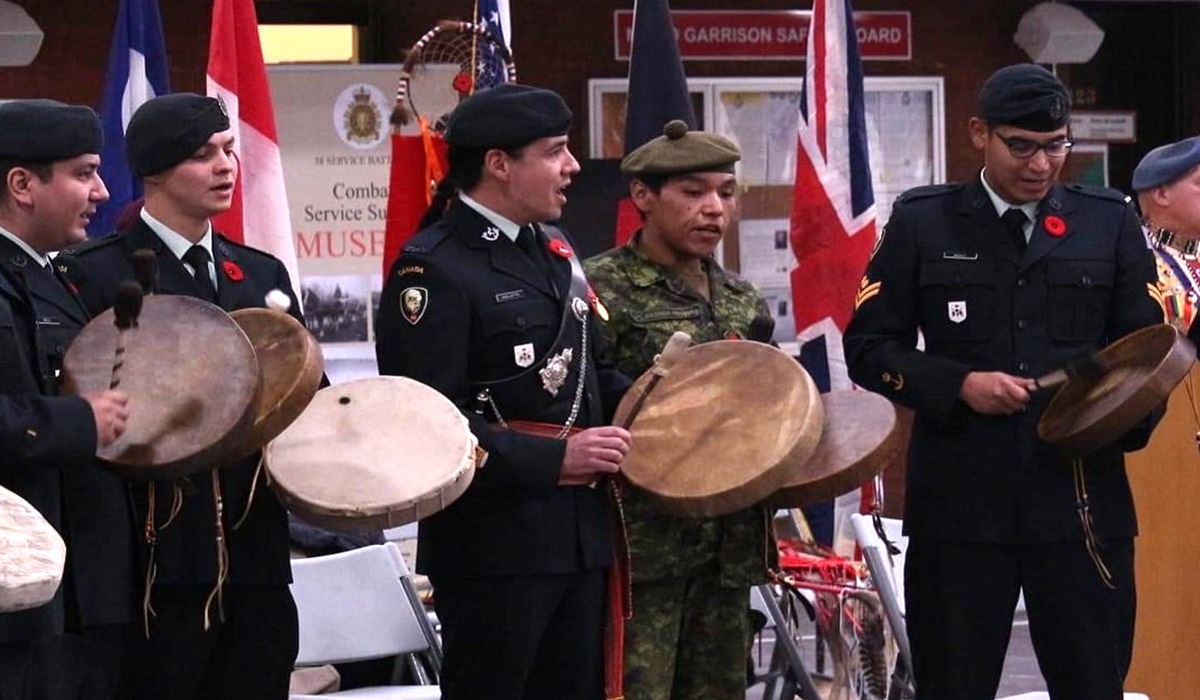 The Warriors – Indigenous Drum Group
On November 8, Canada celebrates Indigenous Veterans Day, dedicated to honouring the Indigenous men and women who have served in the Canadian Armed Forces. This annual occasion is a solemn reminder of the pivotal role of brave First Nations men and women throughout Canada's military history.
Since its establishment in November 1994, this day has been instrumental in recognizing Indigenous individuals' profound role in the military service. Their dedication extends across various conflicts Canada has been part of, including World Wars.
Veterans Affairs Minister Ginette Petitpas Taylor engaged with veterans throughout the week to mark this important day. However, one of the most significant gestures of commemoration was the decision to lower the Canadian flags on all federal government buildings to half-mast. This symbolic recognition was a powerful way to acknowledge Indigenous veterans' service and demonstrate the government's support for the community across the country.
Prime Minister Justin Trudeau expressed deep respect and gratitude for First Nations, Inuit, and Métis Veterans, stating, "Today, we honour them for their invaluable contributions to peace and security. We remember the sacrifices they made in service to Canada. And we stand with their loved ones and their communities."
The history of Indigenous Veterans is a rich and integral part of Canada's past. Their service and sacrifices have played a crucial role in shaping the nation into what it is today. Their courage and commitment are a source of immense pride for the entire community.
Honourable Dr. Robert Falcon Ouellette is an example of valour who has significantly contributed to the Canadian military. Dr. Ouellette served in the Royal 22e Regiment, a French-Canadian military unit, where he was appointed Company Commander in the 5th Field Ambulance from 2007 to 2010. In this role, he played a vital part in running the base hospital, highlighting the indispensable role of individuals in the medical service.
Dr. Ouellette's military career extended for nearly two decades in the Royal Canadian Navy, where he retired with the rank of Petty Officer 1st class. He remains an integral part of the Primary Reserves in the Royal Winnipeg Rifles, currently holding the rank of Warrant Officer. His dedication and service, spanning more than three decades, exemplify the unwavering commitment of Indigenous veterans to their country.
These men and women have shown incredible bravery and dedication in the face of adversity, contributing significantly to the peace and security of the nation. As we commemorate their service, it is crucial to acknowledge the debt of gratitude we owe to these remarkable veterans who have played an essential role in shaping Canada's past, present, and future.
This day not only honours the past but also serves as a reminder that the contributions of Indigenous veterans continue to enrich the fabric of Canadian society. Their legacy inspires all Canadians, reinforcing the values of unity, sacrifice, and resilience that have defined the nation's character. It is an opportunity to pay our respects and learn from history, celebrating the diversity that makes Canada a solid and inclusive nation.
Summary
November 8: Canada celebrates Indigenous Veterans Day, honouring Indigenous men and women in the military.
Recognition: The day acknowledges their pivotal role in Canada's military history, including World Wars.
Symbolic Gesture: Canadian flags on federal government buildings were lowered to half-mast in tribute.
Prime Minister's Words: Justin Trudeau expressed deep respect and gratitude for Indigenous veterans.
Dr. Robert Falcon Ouellette: An exemplary veteran, his service in various military roles reflects dedication and commitment.