Christine Sinclair: The Greatest Goal Scorer Of All Time Announces Her Retirement
TDS News
October 20, 2023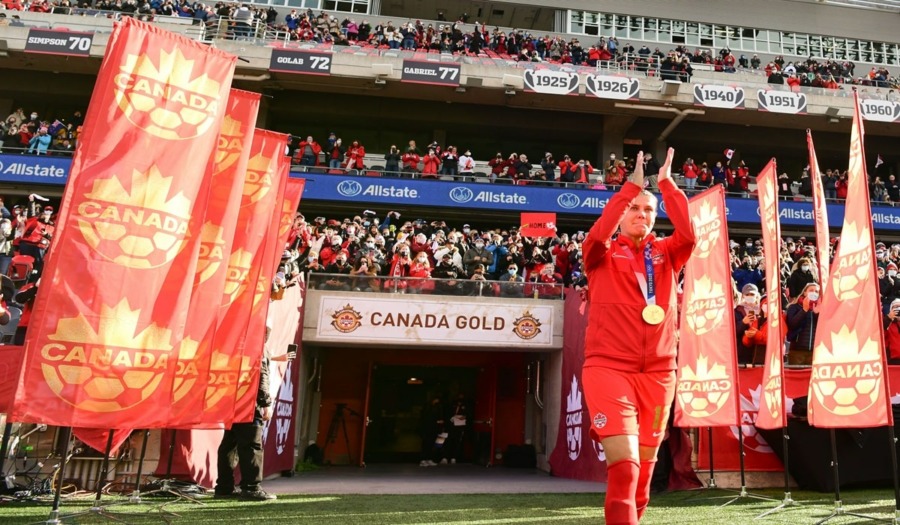 In women's soccer, one name shines brighter than most—Christine Sinclair. Hailing from Canada, Sinclair has carved out a legendary career, making her the greatest female soccer player ever to lace up cleats. Sinclair's name is synonymous with excellence and dedication, with numerous records, accolades, and a legacy that will endure for generations. As she announces her retirement from Canada's women's soccer team at the end of the year, it's the perfect time to reflect on her remarkable journey.
Christine Sinclair was born on June 12, 1983, in Burnaby, British Columbia, Canada. Her soccer journey began at a young age, displaying an innate talent for the sport. Sinclair's passion and drive quickly set her on a path to greatness. She attended the University of Portland, where she continued to hone her skills and develop into a formidable striker.
Over her illustrious career, Sinclair has shattered numerous records and earned a plethora of accolades. Here are just a few of her remarkable accomplishments:
International Goalscoring Record: Perhaps the most notable achievement is Sinclair's status as the all-time leading goal scorer in international women's and men's soccer. She surpassed Abby Wambach's record in 2020, scoring her 185th international goal and now stands at 190. This achievement solidified her as one of the most prolific goal-scorers in the game's history.
Three Olympic Medals: Sinclair played an instrumental role in leading the Canadian women's soccer team to three Olympic medals. Her leadership and goal-scoring prowess were on full display during the 2012 London Olympics, the 2016 Rio de Janeiro Olympics, where Canada earned Bronze, and the 2020 Tokyo Olympics, held in 2021 due to COVID, where Canada won gold.
Multiple FIFA World Cup Appearances: Sinclair has represented Canada in numerous FIFA Women's World Cup tournaments, showcasing her consistent excellence on the global stage. She has consistently led her team, scoring critical goals and inspiring her fellow players.
Honors and Awards: Sinclair has been honored with multiple awards throughout her career, including the Lou Marsh Trophy as Canada's Athlete of the Year. She has also received recognition from FIFA and CONCACAF, highlighting her impact on the sport.
Sinclair's impact on women's soccer extends beyond her on-field accomplishments. She has been a role model for aspiring athletes, inspiring countless young girls to pursue their dreams on the soccer field. Sinclair's leadership, work ethic, and humility have made her a beloved figure in Canada and the global soccer community.
Her remarkable journey has paved the way for future generations of soccer players. She has shown that with dedication and passion, women can reach the pinnacle of the sport and break records previously thought unattainable. Her influence on and off the pitch will continue to shape the future of women's soccer, creating a lasting legacy beyond her retirement.
Image Credit Soccer Canada
Summary
Christine Sinclair, a Canadian soccer legend, is celebrated as the greatest female soccer player ever, known for her excellence and dedication in the sport.
Born in 1983 in Burnaby, Canada, Sinclair's remarkable soccer journey began in her youth, and she continued to develop her skills at the University of Portland.
Sinclair's impressive list of accomplishments includes becoming the all-time leading goal scorer in international soccer (both women's and men's), with 190 goals, surpassing Abby Wambach's record.
She played a pivotal role in Canada's women's soccer team, earning three Olympic medals and making multiple FIFA Women's World Cup appearances.
Sinclair's impact extends beyond her records, as she serves as a role model for aspiring athletes, inspiring girls to pursue their soccer dreams. Her legacy in women's soccer is enduring, shaping the future of the sport even after her retirement.