Change is Good: Embracing the Future of Design In UI/UX and Figma
TDS News
November 2, 2023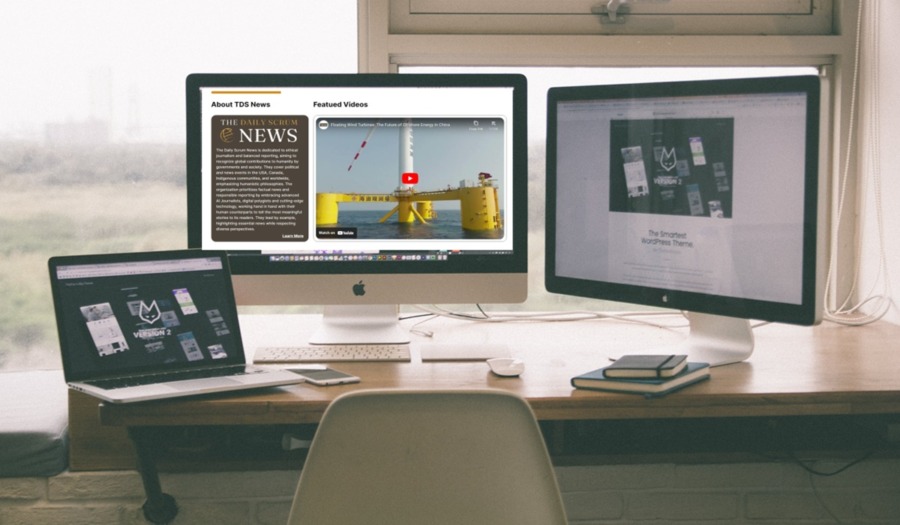 By: Donovan R. Martin Sr.
Editor in Chief
In the ever-evolving landscape of technology and communication, change is not merely a constant; it is often an essential force for growth and progress. This sentiment is no truer than in the realm of web design and development, as exemplified by the recent launch of our new website at Daily Scrum News. The success of this transformation would not have been possible without the vision, dedication, and expertise of four remarkable developers – Deledda, Idile, Claudia, and Emma, along with the invaluable contributions of Professor Bhimani.
What truly sets this team apart is their unwavering commitment to understanding not just the technical aspects of their craft but also the heart and soul of our organization. They recognized the need to adapt to industry standards and sought to bring our news platform to the forefront of communication. Their approach was characterized by diligence, precision, and a methodical mindset. Most notably, they were patient in their pursuit of excellence, a quality not to be underestimated.
These developers demonstrated professionalism that can only be described as flawless. Their ability to translate our ideas into stunning, user-friendly designs is a testament to their mastery of Figma and UX/UI designs. Their work has not only elevated the visual appeal of our website but has also greatly enhanced its usability.
In this digital transformation era, understanding the importance of working with professionals cannot be emphasized enough. The expertise and dedication of these individuals have breathed new life into our online presence. Their approach was not merely focused on aesthetics; they recognized that user interface (UI) and user experience (UX) are the cornerstones of the digital future. As such, they provided us with a clear and comprehensive game plan for implementing these crucial elements.
The partnership with Deledda, Idile, Claudia, Emma, and Professor Bhimani exemplifies the significance of entrusting your project to individuals who are not only skilled but also genuinely invested in your success. It underscores the importance of creating a product that meets and exceeds industry standards. The result is a news platform that not only looks great but functions seamlessly, providing our audience with an unparalleled experience.
As an organization, we are fortunate to have worked with this group of professionals who not only understand design but also have a keen eye for the future. Their ability to provide a clear roadmap for executing our vision has been instrumental in our journey. In a world where first impressions count for so much, our website is now a true representation of who we are and what we stand for.
The launch of our new website stands as a testament to the transformative power of change when driven by a dedicated team of experts. It is a reminder of the importance of embracing the future of design, particularly in terms of UI and UX, and the tremendous value professionals bring to any project. In a world that evolves at an unprecedented pace, those who adapt and innovate are the ones who truly succeed, and we couldn't be more excited about the path we are on.
Summary
The article highlights the importance of change and adaptation in technology and web design for growth and progress.
It acknowledges the role of four developers (Deledda, Idile, Claudia, and Emma) and Professor Bhimani in the successful launch of a new website for Daily Scrum News.
The team's commitment to understanding both technical aspects and the organization's essence is emphasized.
The developers' professionalism and expertise in Figma and UX/UI design significantly improved the website's visual appeal and usability.
The partnership with these professionals exemplifies the significance of working with skilled and invested individuals, resulting in a user-friendly news platform that meets industry standards.