A true account of the deadly terrorist attack at the Owo Church in Nigeria
Steve Ogah visited Owo, Ondo state, in the aftermath of the Pentecost Sunday terror attack of June 5, 2022. Church services have now resumed in the parish after a long break that lasted 10 months. To commemorate the reopening of the parish, Steve writes about his visit and interviews with witnesses to the terror attack with uncommon insights, photos, and courage.
Donatus Awolor fled into the sacristy when the shootings began. Still, he wasn't completely out of harm's way. The shooters had entered the church hall, and the killings had begun. Worshippers would find no immediate help.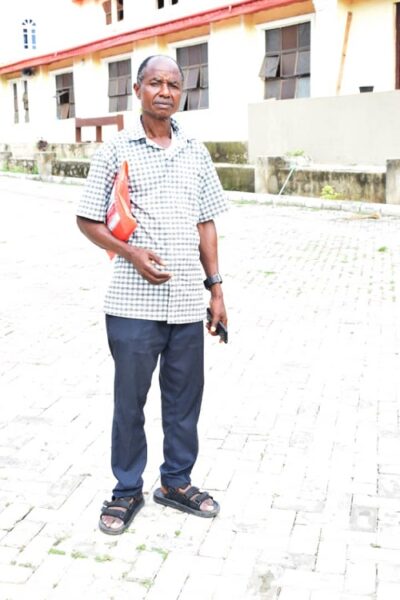 I was heartbroken when news broke about June 5, 2022, Pentecost Sunday Terror attack at St. Francis Xavier Catholic Church in Owo, Ondo State, Southwest Nigeria. Early casualty reports put the dead at 50 worshippers, with many more injured! But the number of the dead has since been placed at slightly above 40 worshippers. The early images and videos from the scene of the attack were disconcerting. And they still are disturbing to watch. My heart immediately went out in prayers for the dead and those who had survived the massacre. Was that all I could do?
I decided to attend the funeral Mass at Owo, which had been scheduled for June 17 by the Catholic Diocese of Ondo state. While in Lagos, the venue of the Holy Mass was approximately 4 hours 31 minutes by road, a distance of 356 kilometers per www.rome2rio.com. But that roughly 221.2 miles standing between Owo and me wasn't going to prevent me from paying tributes to the dead and saluting the exemplary courage of those who had survived the gunmen at the parish. The visit to the town would also allow me to see survivors who had been taken to the Federal Medical Center Owo and St. Louis hospital. I would visit the site of the horrific attack. I would speak to witnesses and survivors of the attack and tell them the world salutes their courage in the face of mortal danger. I would narrate the story of the Pentecost Sunday attack and my visit to the town. And this is that narrative, a report of one bitter day when humanity lost the meaning of civilization.
On The Road
I crawled into Owo in a public bus, and wasn't excited about the journey; it harbored the unknown like most expeditions to uncharted territories. I shared the sense of profound loss of the victims and the families. Sitting in the bus' front seat with a heavy heart and a long face, I didn't find the energy to speak with anyone for the first few minutes of the journey. It took some time before I fished my phone from my bag and made a few calls to some people that I had started the long journey to the funeral Mass. Some contacts had to be informed that I was visiting a town that was in pain and was still at risk of more attacks. I had read about violent groups attacking first responders in some violent towns or attackers visiting places during funerals in a vicious attempt to inflict more pain and losses. I couldn't tell why my mind was traveling to these places. The details of the attack I had come across were horrific; perhaps, this was why I was a little concerned about my safety.
I knew no one in Owo town that I could run to in the case of an emergency. It wasn't my first visit to Ondo state, but I still harbored little concerns about unknown waters, in a manner of speaking. And my mind was busy with all sorts of questions about what happened on June 5. Why Owo and why St. Francis Xavier? Why the Catholic Church? And why kill in the very first place? Could the surviving victims and the town itself ever be the same again? Who had chosen to stab Owo in its heart and exactly where it hurts most, the sacred altar of its enduring faith?
The Toyota commercial bus stopped to refuel along the Lagos-Ibadan expressway. This was when I saw a glossy black staff bus of News Central Television drive into the petrol station. This was a news crew with some young men. They looked unhurried and calm and shared words and laughter among themselves. A couple of them went into the mart at the station and grabbed bottled water and a few other items. I had already started a conversation with a co-traveler to Owo in the front seat where I sat. He knew I was a writer on my way to the venue of the Mass for the dead. We shared a common sympathy for the victims of the attack. We wondered why they had been targeted in the very first instance and what parameters had been employed by the attackers in choosing Owo town. But neither of us had any ready answers to explain the tragedy of Pentecost Sunday. But I assured him that my visit was, perhaps, going to help unravel what had befallen those innocent worshippers; it would tell as many stories as possible. It was the most minor thing writers did, tell stories that needed to be known, especially when subjects of tragedies can't speak because of their pain and losses.
I sat back for what I believed would be a problem-free final stretch of the journey.
"So, you don't really know where you are going?" The retiree asked me with surprise in his voice. "You should have told me from the beginning. Where exactly are you going to alight?"
"I really don't know. But will make use of Google maps if it gets complicated."
"Where is the event taking place?"
I told him I had learned it would be at Mydas Resort and Events center. I had saved a screenshot from the internet. I took out my phone and showed it to him. He nodded after staring at my phone's screen for a while.
"I know the place. It's along the Ikare-Owo road. It's off the express road. It won't be hard to locate."
I was grateful for the assurance. I shut my eyes, and reclined into silence, my mind restless with questions about the killings in the church.
I was glad after I learned that we were now in Owo. The scenery looked green and close to nature, like the kind of terrain fit for animals and lovers of the natural world. We passed the Rufus Giwa polytechnic. I had heard about Rufus Giwa from the corporate world. I reminded the driver that I would like to be let off at a point that would be easy for me to locate a ride to Mydas.
"That's the second gate of the school. The main gate is up ahead." The driver said to me. "But I think it will be better to alight around here. You can easily get a bike or ride toward the express from here. This is your best point. You don't need to go too deep into the town."
That was it. I was finally close to Mydas. So, I unhooked my seatbelt and got down from the bus. I thank my co-traveler for his great company, the cobs of cooked corn he had bought and shared with the driver and me, and the bouts of courage he had also given me. I waved the bus along. It wasn't long before a swarm of Commercial motorcycles descended on me as I stood wondering which way to go. I was standing not too far off a First Molac Nigeria Limited gas station. I took in the scene and saw a welcoming signpost up above me.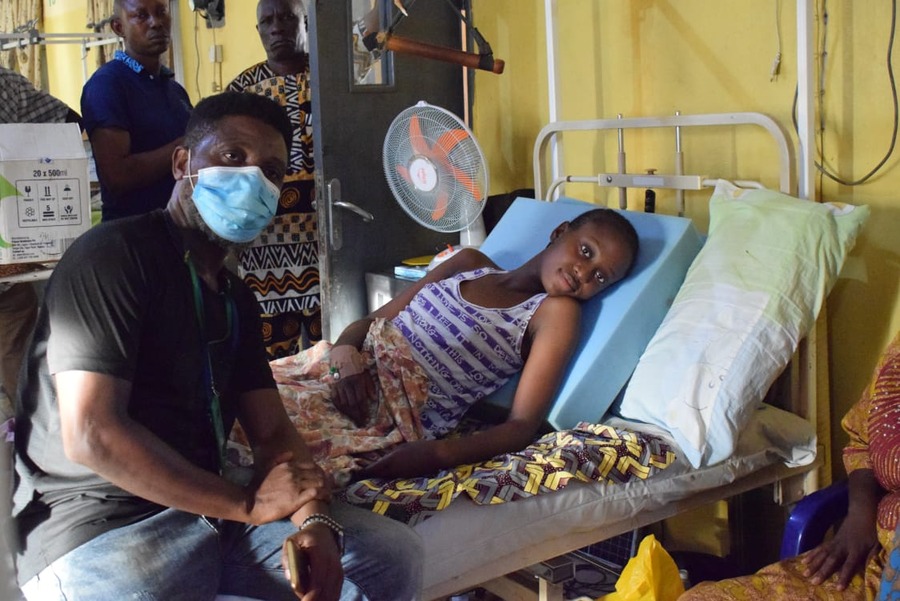 "Welcome to Owo. Develop a country. Empower a woman. Courtesy of Owo Virtuous Sisters Club."
I felt welcomed. The sisters had spoken well. I immediately had the urge to find out more about them. Perhaps, they would tell me more about the town and the depths of its humanity.
I got talking with an Okada rider who had appealed to me with his outlook and machine. The young man looked cultured from the way he had spoken to me. I briefly introduced myself as a first-time visitor to the town and told him my mission and destination. I showed him the screen grab of the event center I had saved from the internet. He said he would take me there. The funeral Mass was already well-publicized in the town, and he had made a few runs to the place earlier in the day, ferrying people back and forth. I didn't bother to negotiate a price with him. An inner voice just told me he wouldn't rip me off. I got on the firm black leather seat of the Bajaj Motorcycle. Having had a painful bike accident in the past, the traumatic scene flashed through my mind briefly, and I tried not to dwell on it for long even when the scars of that accident stared at me. I recalled the Writer Stephen King writing about how he learned to write after his accident. I said a silent prayer in my heart. There were not many things I could do in the circumstances where I had found myself. It was a great miracle that I was alive from my accident. I had to be grateful for that every moment of my existence.
The sun was above us as we rode along the quiet streets of Owo town. It seemed the whole town was paying tribute to the dead. There was a bit of activity around the Rufus Giwa Polytechnic, where a few people went in and out. I asked the motorcycle rider about the mood of the area. He went on to say that the whole place was still in mourning, especially with the funeral Mass that had just taken place. Most Catholics from other parishes other than St. Francis Xavier had turned out to pay tributes to the dead. And collective mourning was already self-evident in the town. Sirens from ambulances and hearses had wailed a while ago, he told me. Many had gone to bury the dead, I learned. He also said to me that many residents were circumspect about their movements after the tragedy of June 5.
Mydas At Last
It didn't take too long before we got on the Owo-Ikare road and stopped in front of Mydas Event center and Resort, a sprawling, well-manicured place with white-painted buildings that revealed an exquisite sense of aesthetics. There was not much activity going on around the complex. Some cars were driving out of the grounds. The air around was sad and heavy. And I felt like an unfortunate loser all at once. But I still walked up to the security gate and introduced myself. I was asked to go inside and see the Resort's general manager, who was still inside Boje hall, where the event had taken place a few minutes earlier in the day.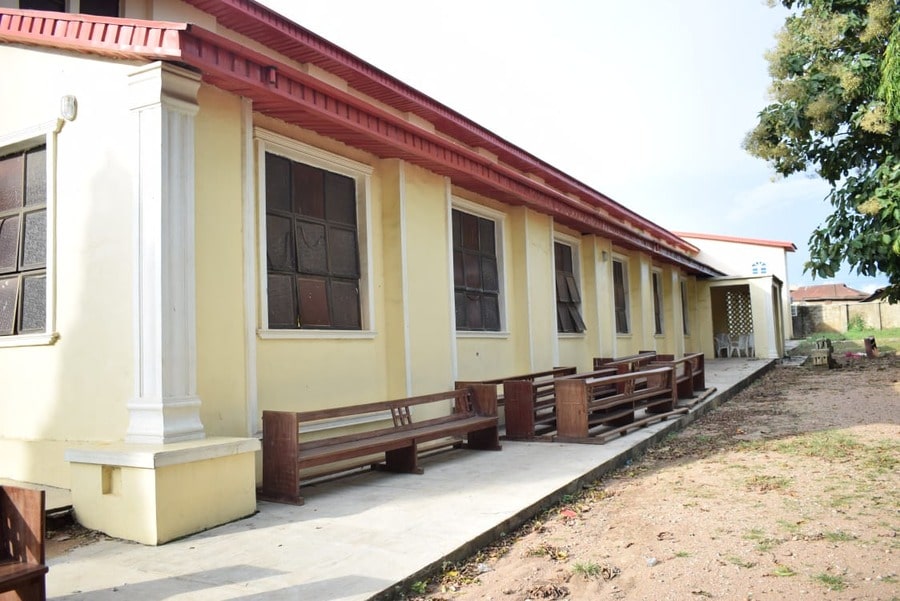 I was about to go in when a black salon car pulled over. A bespectacled man wearing a silver finger rosary got out of the car and left the engine running. He went to the fence and untied the banner that had announced the Mass to visitors. He was well-cultured. Before untying the banner, he had waited for us to take some quick photographs.
"Are you through?" He asked as he walked up to the fence.
That action got me thinking fast. Perhaps, the man was one of the workers at Mydas. I walked up to him as he rolled up the banner and returned to his car. I started a conversation and discovered he was a Catholic Priest from Sacred Heart Parish in Akure. He wouldn't grant an interview as he said he was in haste and had only returned to Mydas to unroll the banner. But he was gracious enough to invite me over to the parish if I wanted an interview session. I pressed him for more words, but he wouldn't budge. I had to let go when he got to the car and drove off, the silver rosary hanging from the rear view mirror swaying gently as he went along. I had missed a vital conversation with an observer of the funeral Mass. I had no idea where some of the dead were buried.
Searching For The Dead
I got into Boje hall and secured a brief moment of conversation with Mr. Kolawole Ojomo, the general manager of the Resort center. I grabbed a couple of "the order of funeral Mass" booklets as I left the hall. I later heard from someone at Mydas that some of the dead would be at the New Catholic Cemetery, Emure-Ile. I asked for directions to the place since I had already read about that in the papers. I left the Owo-Ikare express road to search for the dead around the forests of Emure. This expedition turned out to be an exercise in futility.
None of the town folks I spoke to could pinpoint the exact location of the New Catholic Cemetery in Emure. One elderly man directed me towards a housing estate, off the Folahunmi junction. "Go towards the two-road area," he said.
I ordered my Okada rider to do his bidding. But we got there and met a bystander by the road who told us we were off-track. I thought it was said that in a strange town, one only had to speak to natives to find his way around a confusing maze of streets? I had spoken to quite some locals but still not found my way towards the cemetery. We were riding out of the housing estate area when the motorcycle rider saw one of his colleagues. He waved him down and asked for directions to where we were headed.
Our new guide had his wife and young son with him. He said he had seen a hearse going in the direction of Emure-Ile, and he was confident that was where the new burial ground would be. And he also said he wasn't sure all the dead would be in one place because some vehicles carrying the deceased had gone towards the highway heading out of town. He began to give directions to my rider, who listened as though one who was taking in a life and death instruction. We were about to go the way we had been directed when I suggested that the new Okada rider lead us there personally. I was losing some of the starch in me already. Hungry, sweating, and restless, I didn't want to embark on another blind journey. I needed a guide who knew the place with the same certainty he would use in drawing the lines on his palms.
My new guide agreed to take us to Emure if only we would wait for him to drop off his family at a point not far from Chancery Hotel. He pointed up ahead and promised he wouldn't take long. I believed him and didn't object to his proposal. I got off the bike and told him I would wait for him under a tree by the road. And wait, I did!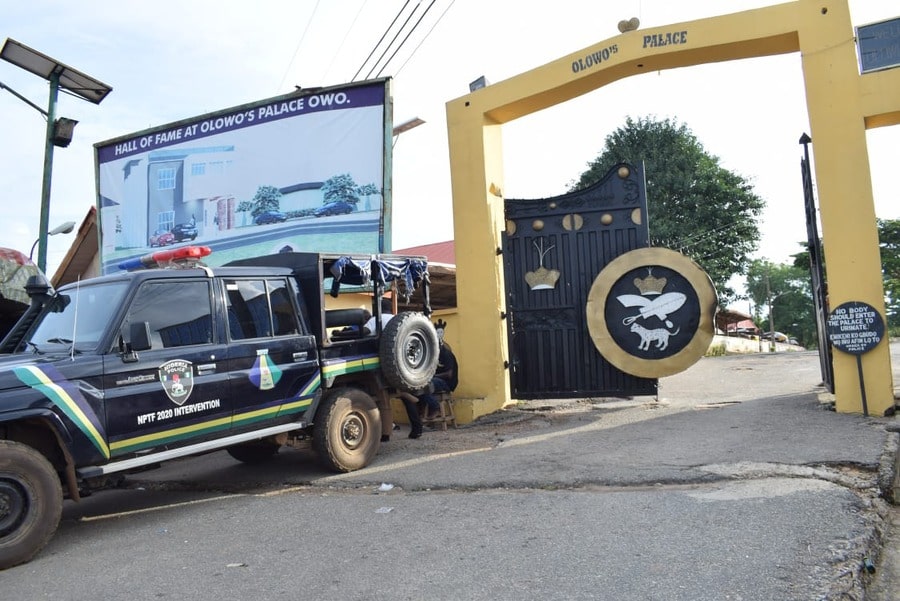 The bike man kept his word, returned in no time, and led the way for us. We returned to the forest we had come close to entering earlier at Emure-Ile. I told him we had been around the place before, and no one we asked had helped in any way meaningful. The leading bike man told me not to bother since he knew where the dead were buried. He promised I would find many people to interview once we got to the place he was leading us. I believed him and sat back. We rode for a while before he slowed down, took a detour to the left, and beckoned us to do the same. We obeyed. And found ourselves in another finely forested area, everywhere green and airy.
Our leader stopped suddenly when he saw a farmer and his wife. He spoke an uncommon dialect of the Yoruba language. I could not understand a word, but suspected he was asking for quick directions. I became bothered because I suspected the fellow had lost his way in the Emure forest. I had my fears now. Was this guy leading us to a den of kidnappers? Was there a grand plot of some sort to lead me astray before finally taking me to the exact spot, and in that way, I would have to pay heavily for the trip?
I thought of putting out a message to some contacts that I was deep into the belly of the forest in Emure should no one hear from me in a couple of hours or so. But I discarded the idea because my fear left me when he said we were returning to the tiny main track. He said we would find the cemetery along that route. He had received all solid assurances from the farming couple. And so we turned back towards the main forest track. "I thought this guy said he knew the place all by himself. Why is he acting lost," I said to my rider. He told me to stay calm since he had asked for directions from the locals around the forest.
We encountered a band of four hikers walking in a single file off the road. Gangly and with little flesh as though marathoners, they had sun-baked faces. They bore sheathed cutlasses while chatting happily among themselves. I knew not a single word of the language they spoke. They looked at us, smiled, and waved us along like friends from way back.
"Who are those?" I asked.
"Oga, you dey fear?"
I lied to my motorcycle rider when I spoke back. But he noticed I hadn't really told him how I felt.
"Nothing go happen. Na my area be all this place," the rider said. He now rode with one hand while the other pointed towards the thick forest cover.
I turned around to see if our new forest friends were still waving. But they were not there. And I had upset the Okada man's riding rhythm when I looked back.
"Oga, sit down fine make I no fall you down. This road is full of sand and water."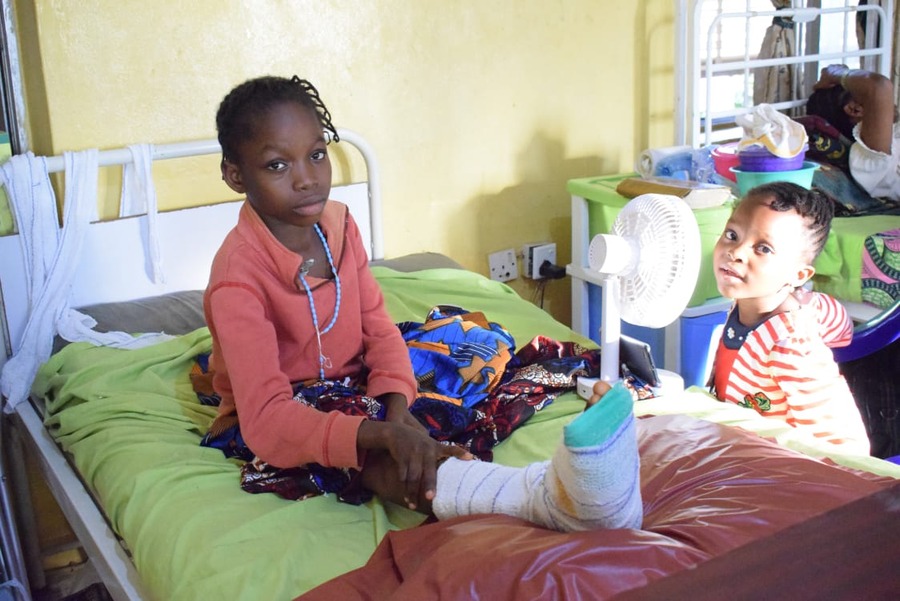 I apologized for having put him into some troubles. I sat still, but my mind wouldn't remain calm. I drew my bag closer, my heart beating with a racy rhythm that had started when I suddenly saw the quartet in the forest. We passed what looked like a forgotten village. I saw laterite red mud houses with crumbling walls. One or two heads moved in the distance. Who would stay in such a lonely place? All sorts of images flooded my mind at once. I wasn't finding the sense of abandonment of the terrain comforting.
We soon passed a brook that had greyish water. It had been discolored beyond human reach. We rode further into the forest, and I became worried again. I asked my rider if he didn't think we had gone astray, but he allayed my new fears by pointing to the expressway on the left.
"That's the express road. This road is an emergency exit in case of traffic. That's what I think. It's almost as long as the main road."
The road ahead seemed to stretch forever, with thick vegetation hemming us in on both sides. We had still not found the new Catholic cemetery after what seemed like an unlimited ride through the forest. Instead, we saw animal hoofmarks in the muddy earth and inhaled the smell of muck carried in the wet wind. I had lost all pretenses of patience and comfort. I halted my bike man. I ordered him to turn back to the main junction that led into the forest. I wasn't going to go any deeper into the belly of Emure. Something was not right about the journey; the hair around my back had straightened like the hackles of frightened canines. The lead motorcycle rider stopped cutting through the wind when he noticed we had stopped following him. He turned around and soon caught up with us. I began to upbraid him. There was no point in concealing my disappointments.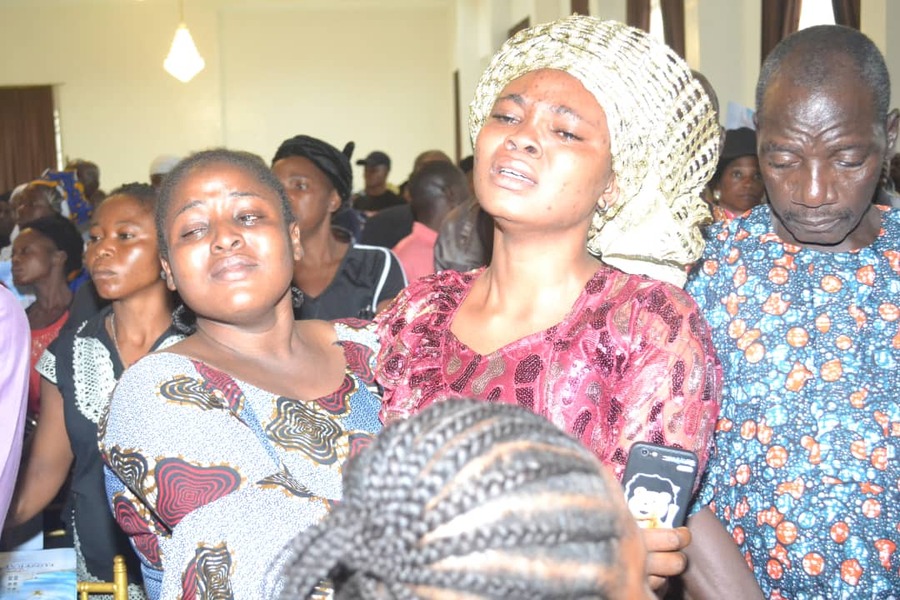 "I thought you said you knew where the cemetery is located?"
"Oga, we never reach the place, but you just turn back like that."
"Shut up! You have absolutely no idea of where you are going." I shot back. "We are just going deeper and deeper into the forest. There are no houses in sight. No humans to speak to. No tire marks on the ground indicate that cars have gone through here recently. I don't think anyone was brought here to be buried today."
"Oga, but wait, we never reach the place."
I feared the young man had tried to lead me to a slaughter slab of some sort. He simply had no idea of any cemetery. This guy had a blackened and rugged face, stocky, and looked made for a fight, and I suspected he would have easily given me a judo throw if he had the chance. It would be terrible to be alone with him and his bike partner deep into the jungles of Owo. I didn't wish to be around him anymore. His insistence was grating me in the wrong, harsh and crazy way.
"You don't have to bother because I am not moving one inch under your guidance." I turned to my bike man. "And you say you know this con man?"
He nodded. "He is my friend. We dey ride bike together for streets."
"Well, he is one hell of a friend I don't want to know! And I will not give him a dime for leading me astray. I will not embolden his small mind."
I ordered my bike man to zoom off. The other guy chased behind us until we got back to the main road. I saw a group of men drinking local wine at a shack and stopped to speak to them, hoping they would know where the cemetery was since we were still within Emure. I saw an old white bone that looked like a broken hind limb of a small animal. As I walked up to them, the bone that was partly buried in the ground seemed whiter and bigger. The men looked relaxed and full of laughter as though they were locals who owned the town. But I had made a wrong stop. These men had consumed quite some liters of wine. And the wine was in their faces and on their tongues, in a manner of speaking. I spoke to one, but three responded, each giving me different directions, confident of what they were saying. One stood to take a leak and kept talking as he went along. I walked back from them, telling him I had gotten his facts, but I didn't know all the places they had mentioned. My motorcycle rider looked at me and smiled. I sensed unspoken words in his eyes and at the corner of his mouth.
"You know the place they mentioned?" I asked the bike man. "Why don't you come closer and get more directions from them. It seems they know the town well enough."
"Oga, leave these people make we dey go. Dem just go confuse you the more." He shook his head repeatedly. "I no get time for their wahala. Make we carry ourselves dey go now."
I obeyed him. And I thought he had read the situation just fine as well. I was beginning to take to the rider because he seemed not impatient with me. We rode up the road, and I took a deserved rest at a roadside grocery store. I grabbed a bottle of water. My rider remained on the bike by the roadside. The bike man who led me astray earlier came up to me. I was finding his company irritating already, yet the young man was still insistent he would help me find the dead! To put him off, I lied to him that I had decided to discontinue the search for the cemetery. But he pretended not to have heard anything of what I said. Surprisingly, he came close to me and tried to woo me to his side.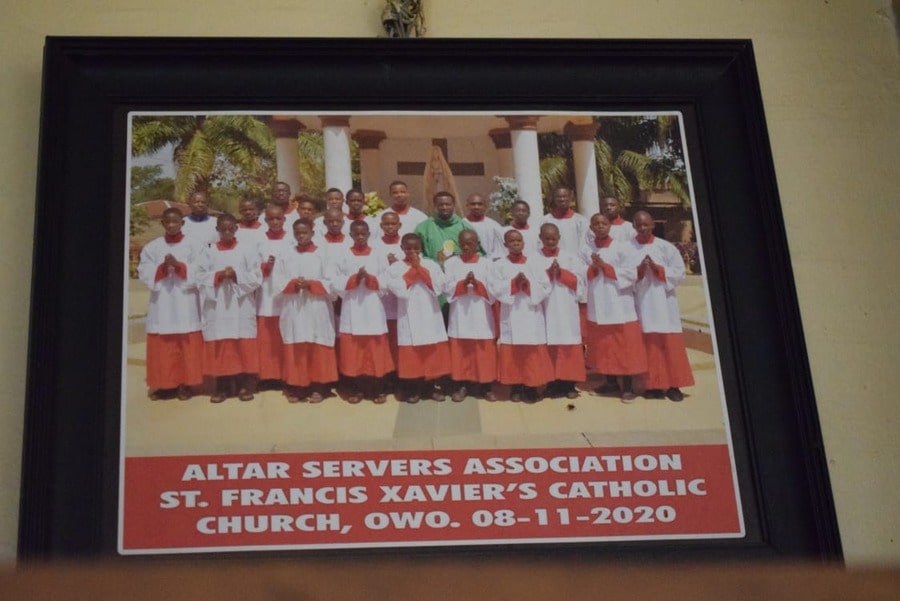 "Oga, tell that other bike man make him dey go. Him dey with you since morning, he go chop your money finish."
I looked at him with alarm in my eyes. Had I complained that I was being ripped off?
"I go help you find the place. I no go charge you sef."
Was this guy for real? The perfect conman and Okada rider! I felt angry and disgusted that the first bike man who had become my official rider had even called this scammer his friend in the first place. What sort of a friend would try to get food off the mouth of another? This crazy guy was trying to take business away from his colleague. I wasn't going to be a part of it or let him do that through me. His wicked action brought to mind the words of a Jewish proverb: "The heart of man and the bottom of the sea are unfathomable."
"Now, get off from me before I change my mind!"
He did. The lady at the store looked at me and smiled. She understood what the guy was trying to do since I was a visitor in town. She said she had seen me pass on the bike earlier and suspected I was new in town because I had stopped and spoken with an elderly man earlier. I didn't doubt that she had seen me earlier since it was on this street that I had indeed asked for directions from someone. I wondered if she knew where the new Catholic cemetery was, but she had no idea. She had only heard about it recently in the aftermath of the attack at the Church. I emptied the water bottle, got another one, paid my bill, and rode off towards St. Francis Xavier Catholic Church.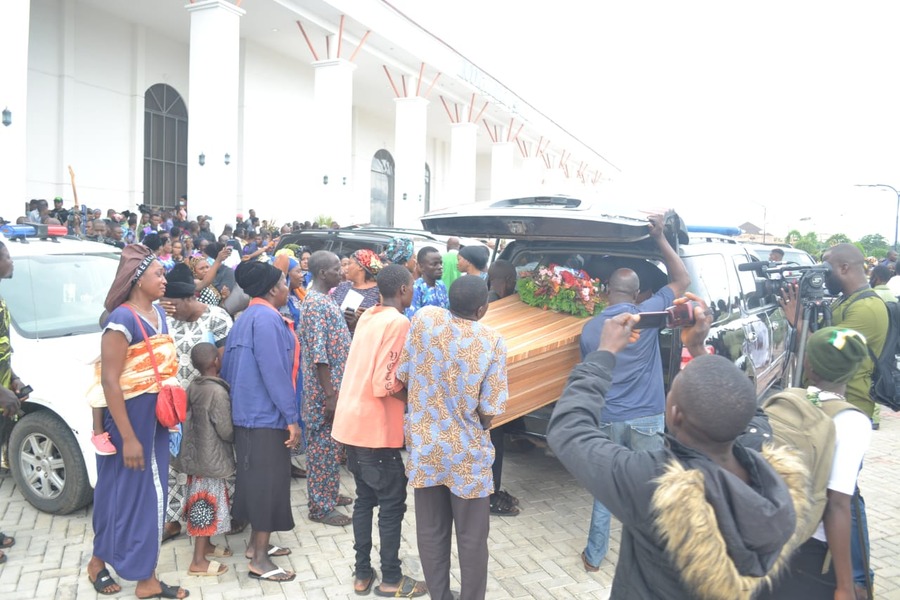 We had gone off a few meters when the bike man suggested we visit the Baale of Emure-Ile's palace instead. He thought he would know where the cemetery was since he was the village's royalty. I thought that was a good idea and went along with it. We went through a road that was being constructed and saw an uncompleted brick building that housed a Catholic church on the left side of the road. I asked my rider to stop for a moment because I felt that someone in the Church would know where the cemetery would be. I spoke to a couple just opposite the building, and they informed me that it was an outstation. I was unlikely to find anyone there if I crossed over and visited. The priest always came from another parish to offer Holy Mass. The couple pointed to the locked doors and windows and told me to forget about going to check on the place. I took their advice and asked them if they had any idea where the new Catholic cemetery was located within the Emure axis. I met with no luck with them. They had no idea as well. So, I got back on the motorcycle and continued towards the Chief's palace.
We soon reached the royal compound after a few minutes on the dusty road. I saw the palace but decided against going in. I saw two women in talks in a small room across the street. One of them had a scapular around her neck, and I suspected she would be a Catholic person. I approached them and asked where the dead were buried, telling them I was Catholic and was on a writing mission about the June 5 Massacre. The older woman sized me up, trying to read my identification tag, which I had worn to ease recognition. She began to speak in a low, sad, and raspy voice. Her partner sat quietly, her chin buried in a palm.
She told me she and her friend had just returned from the funeral Mass at Mydas Resort center. Some people had taken their dead away for private burial ceremonies. She wasn't sure that there was a centralized burial ground for everyone. She spoke with the confidence of one who knew the facts of the matter. She said she would have known had there been a cemetery around the area. The woman said she and her friend would have joined the motorcade from the highway. At this point, she advised me to visit St. Francis Xavier if I wanted more facts.
"You may even ask at the first Church," the younger of the two added.
"I don't get it," I said. "Which is the first church?"
"I mean, there is St. Stephen Catholic Church along the way to St. Francis Xavier. We sometimes call it the First Church."
"I get it now." I nodded.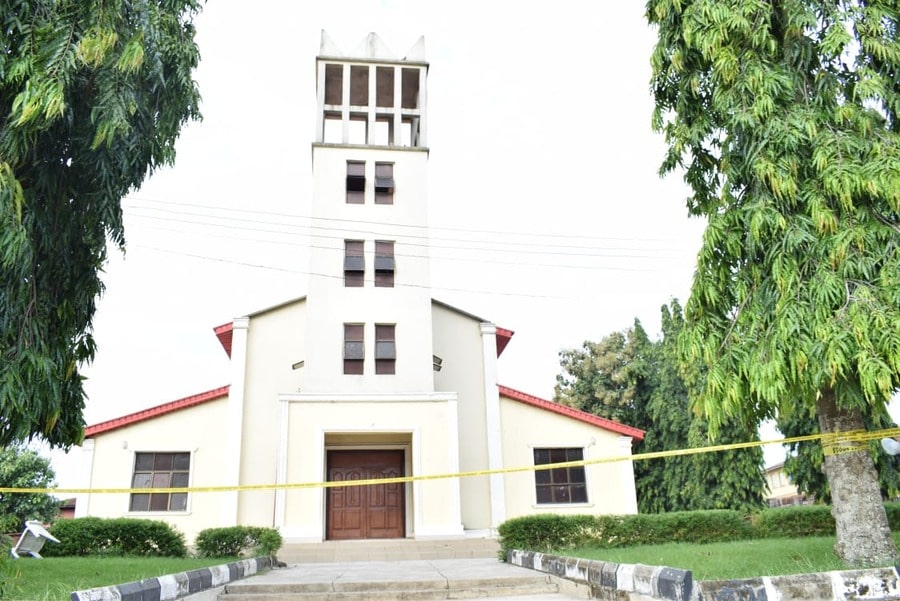 The couple had taken time to explain things to me and advised against a further expedition around the Emure-Ile area. There was an adolescent girl in the corner of the room. She had been quiet all along but decided to join the talks as I made to leave.
"You are a Journalist?" She asked. "From where?"
I told her where I had come into town from and then asked, "You don't like writers?"
A kind smile lit up her face. And I thought she looked so much like the younger woman as she stood up and asked to read my Identification tag. I didn't refuse her request. She finished reading and smiled again.
I returned the kindness as well. I scanned the room and concluded that it was a poorly-stocked grocery store. A kind sentiment urged me to buy a thing or two from them. So, I asked for a drink, but they didn't have what I wanted. I thanked them and left.
I started a conversation with the rider as we went along, the calm wind from the ride having done a fine job calming me down. I asked the rider his name, and he introduced himself as Ola. That was when I told him about the dirty tricks of the departed bike man. Ola didn't believe what he had just heard. He almost pulled over by the roadside. The motorcycle rider was upset I hadn't told him when the guy was around. Ola confessed he would have definitely given him some harsh words. He was grateful I had revealed the guy's character to him, and he promised he would confront him if he ever saw him in town again. I didn't wish to be the cause of friction between two "friends," but I couldn't help but tell a man who had been kind to me about someone else who literally wanted him to be hungry. Ola hadn't done anything wrong for him to have wished him off me.
We were around the Otapete area of town when I saw a herd of primarily white cattle being led by two young men just off the express road. I asked the bike rider to stop so that I could grab some photos of them. They looked majestic and seemed to be enjoying the leisurely walk. They seemed part of the town's cultural sights and sounds and also deserved to be photographed. I did not get too close for fear of agitating them with the camera's flashlight. Bovine Spongiform Encephalopathy existed, and I wasn't prepared to diagnose it by casual visual observation. Some cattle could have had telltale clinical signs of a mental disorder. But I wasn't in the mood to find out. One still recollects reading media stories about cattle attacks on people. A report in the Sun Newspaper about a poor boy somewhere in the east leaped to mind. The young man became bedridden after his brutal encounter.
After a few clicks of the camera, a big light brown cow strayed towards where we stood. I wasn't going to stay any longer. So we got back on the bike and sped towards the Church.
The streets appeared unusually quiet. Otapete looked like a Church town on a Sunday morning, easy and peaceful with the townsfolk in Church! I raised the issue of the seemingly deserted roads with Ola.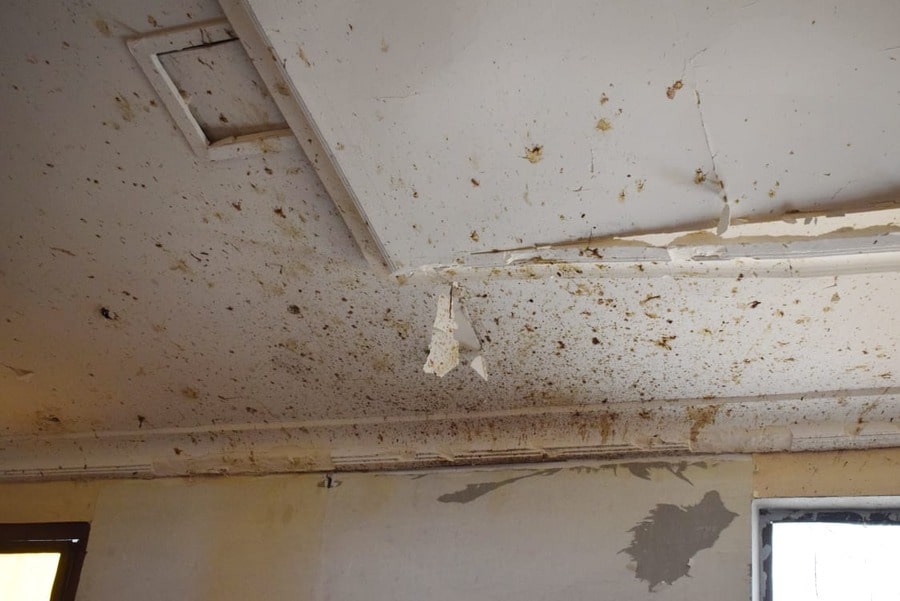 "What's going on around here? Why is everywhere so quiet, or is it how the town often appears?" I asked him to park safely so I could capture the vast, empty road. He did, and I grabbed some shots. No one passed through the road while we shot some images.
"Well, Owo is a quiet town, but not usually this silent. Maybe people are observing some moments of respect for the dead. Remember, the funeral Mass was earlier in the day?"
I nodded. The whole town had united in grief, Catholics and non-Catholics alike. I then asked if Owo had changed since the terror attack, which seemed to have hit the area deep in its underbelly and frightened some greatly.
"To be honest, nothing has remained the same since that June 5 attack. People stay out late with utmost caution. Everyone is careful around town. Personally, as an Okada rider, I don't work late. I don't go to certain areas. I don't carry passengers that look strange to me."
Ola then told me that he preferred working around the Rufus Giwa institution, and I wouldn't have seen him at that junction had the school been in session.
"I know most of my passengers, and most of them know me. I work with students," he explained. And then added, "Awon omo ope."
"You are lucky; you know the grateful ones," I said.
We rode for a few minutes before we passed by the parish the women near the Baale's palace had termed "the first church." St. Stephen's Catholic Church was off the express road in Owaluwa. We soon reached the court of the Olowo of Owo Kingdom, His Royal Majesty, Oba Ajibade Ogunoye. We then went through a crowded marketplace before stopping at St. Francis Xavier Catholic Church.
The parish was just behind the Oja Oba market and the palace, with a detachment of police officers in front of it! That struck me as a reasonably safe or secured zone to have a Church. What went wrong on June 5?
I was hopeful I would find out from witnesses to the massacre. Finding witnesses became my immediate task.
Walking on the Blood of Martyrs
"I thought the church was in an isolated part of town," I said to Ola. "How did the attackers escape because this strikes me as a busy neighborhood where they would have easily been handicapped?"
"It beats everyone," Ola said. "And if you are wondering about the policemen, they have just been deployed to the palace after the incident. They weren't always there."
"That's good for the town," I said.
There were scars everywhere as I looked through the compound. St. Francis Xavier parish is an imposing structure somewhat screened by a coppice of giant poplar trees as it sits on an expansive fenced piece of land. Parts of the grounds housed the foundations of a new building. 16mm steel rods jutted out from concrete pillars here and there. There was a freshly tipped load of construction soil in front of the uncompleted building. There were no visible signs outside announcing that it was a Catholic church. But it was a self-evident house of God, of worship, with a majestic, sparkling and decorated grotto of the Virgin Mary sitting on interlocked stones of the grounds. I approached the gates with trepidation, not knowing how I would be received. A car drove out as we went close. It became possible for my rider to go in and park his motorcycle in the expansive compound where two men sat on plastic chairs facing the road off the gate. A few local chickens were having a field day in the vast space, pecking and chasing insects freely.
I walked up to the men and made quick introductions, thrusting my ID forward for each man to read. They did and were satisfied. And then the larger of the two gave directions when I asked to speak to anyone who had witnessed the horrific attack of June 5.
"The Reverend Fathers are not around. I mean the both of them." He told me. "That's the church catechist over there," he pointed towards the side of the main church building. "He is about to leave. You must rush up and speak with him before he closes for the day. He is better able to tell you everything you want to hear."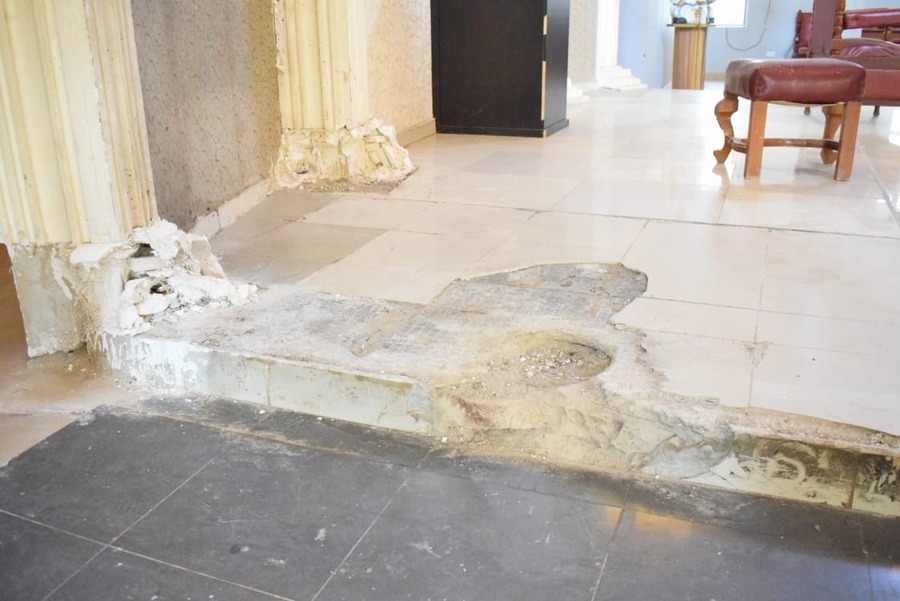 I took out a small writing pad and proceeded in the direction he had pointed. I thanked him profusely as I went towards stately palm trees, tall poplar trees, Our Lady's grotto, and the main Church building. The Church was off-limits, as indicated by a yellow police crime scene tape running from one tall gently-swaying giant tree to another. I decided against using the short flight of stairs that led toward the Church's main door since the yellow crime site tape meant I couldn't go in that direction. Everywhere was attended by a mood of deep sadness, with a few broken white plastic chairs lying towards the Church's entrance. It was still evident that things were far from normality at the parish. The short flight of stairs triggered a flood of visually disturbing images I had seen on the internet about the attack. I unconsciously pointed to where one of the survivors sat with a dead child. I was a few steps away from where a woman sat with a child in a bloodied white dress between her laps. She had another kid strapped to her back. She was dressed in blue clothing emblazoned with the logo and words of the Catholic Women Organization. The anguish and shock on her face as someone tried to yank the dead child away was right in front of me. I blinked off the horrifying image and walked up towards the Catechist who had decided against going into a room as he saw me from afar.
A man with a slight limp in his walk, Catechist Donatus Awolor, was in Church on the morning of the attack. He wore a heavy face as he spoke to me, the scars of his heart almost popping up to the surface. He hadn't gotten himself back together, it seemed to me. I was careful not to prod recklessly since it was clear that he was still burdened by the heavy weight of the memories of what he had survived. I asked simple questions and let the witness to the moment talk to me using exactly his own words. I made sure not to interrupt him as he recounted what he had witnessed and miraculously survived. I dwelt on questions of where, what, and how? Mr. Awolor had no idea why the Church had been attacked. They had no problems with other religious groups in the normally peaceful town. It was a wonder that he survived the assault of the shooters who breached the gate and walked up the main building, a few meters from the road.
The casualty figures would have been higher had the main church building not been set back just the way it was. Design and construction features seemed to have played a key role in securing the lives of a few parishioners. The things that helped were the open space from the pedestrian gate to the flight of stairs, the short concrete walkway, and the tiled landing before one hits the main church door. The wide-open path had enabled a few people to see the gunmen as they approached. Within that golden timeframe, some exiting parishioners had fled back into the Church and had shut the main door. At the same time, bullets rained down on the building. And pandemonium began inside and all around the Church.
The copse of trees in the Church compound also served as a vital cover for worshippers as it obstructed the line of sight of the terrorists. With no way through the main door, some gunmen had gone through the side door on the right of the building, piercing colored window glasses with assault gunfire. The shut door remains a crucial turning moment of divine grace and raw courage in the face of graphic and real existential threats. The impulsive heroism of the doorman must be highlighted. And this act of shutting out the gunmen brings to mind the words of Matthew Kelly in his book, Rediscover Catholicism (2010). Writing about courage, the prolific Catholic writer submits:
"Courage is not the absence of fear but the acquired ability to move beyond fear. Each day we must pass through the jungle of doubts and cross the valley of fear. For it is only then that we can live in the high places, on the peaks of courage. Take a moment to wander through the pages of history-your family's history, your nation's history, your human history-and extract from those pages the men and women you most admire. Who would they be without courage? Courage is the Father of every great moment and movement in history. I have felt the chilling winds of fear and self-doubt rush through my skin. I have discovered that courage is learning to recognize and master that single moment. That moment is a prelude, a prelude to courage, or a prelude to fear. So much can be accomplished in one moment of courage. And so much can be lost to one moment of fear. No one is born with courage. It is an acquired virtue. You learn to ride a bicycle by riding a bicycle. You learn to dance by dancing. You learn to play football by playing football. Courage is acquired by practicing courage. And like most qualities of character, when practiced, our courage becomes stronger and more readily accessible every passing day. Virtues are like muscles-when you exercise them, they become stronger. Courage is essential to the human experience. It animates us, brings us to life, and makes everything else possible. And yet, courage is the rarest quality in a human person. The measure of your life will be the measure of your courage."
It is outstanding that someone, perhaps, without military training found himself and others exposed to a naked line of gunfire and still had the composure of mind to put up a defense. Shutting out an armed approaching attacker was no mean feat. One can only imagine what would have happened had the worshipper fled in understandable fright from the door. What if he or she had left the door wide and gunmen had gained unimpeded access to worshippers who had their backs turned towards the wide-opened door? The little minutes of delay the shooters experienced in accessing the inside of the building afforded some terrified people time to flee through the sacristy. But not many had been so lucky. Over 40 worshippers would die, and another 74 would be injured. But Mr. Donatus Awolor was a fortunate person who fled the scene of attack and terror through the sacristy. I asked him where exactly he was on that tragic Sunday when the terrorists invaded the Church.
"I was in the sanctuary here on that Sunday," he says. "Father had given the final blessings, and we were about to proceed outside before we heard the gunshot outside. Then people were running towards this side (indicates with his hands). Then we had to…so, when we saw them coming inside to shoot the gun, we managed to escape through the sacristy there (pointing). It was there we were able to cover ourselves."
Mr. Awolor also spoke about the mood at the Church and the climate of fear around town.
"Mass is suspended because everywhere was polluted with blood. So before the Mass starts again, I think the Bishop and the Priest will gather together to purify the Church. For now, Mass is suspended at St. Francis Xavier." He explained. On the mood in town, he said, "Yes. People are afraid because many people are still in the hospital, the victims. So everybody is still in shock. They don't know what will happen the next day or hour. That is why people are still entertaining fear."
The Catechist couldn't pinpoint the attackers' identity and those responsible for planning the deaths of many of his fellow parishioners. He was unaware if anyone had taken responsibility for the attack. He said: "I don't know. Nobody has taken responsibility for the attack because we don't know the people that came here. People are just suspecting terrorists or whatever it may be. Or herdsmen or this and this. Nobody knows the actual people that came here. Because as a Catechist, I was just on the altar. We were about to proceed before we heard a gunshot at the gate. People began to run inside the Church. The Church was locked. Then through the window, they were shooting and entered through the side door. So we didn't see them, especially myself, because immediately people were rushing to the altar side, they covered everywhere, and people were looking for where to hide. So, that is what happened."
Mr. Awolor opined that Owo needed more security presence as the town wasn't entirely safe, and they had no idea the Church was at the risk of attack. He expressed his position on the future:
"Yes, we need more security in the town because what happened has made us conscious. We will have security around the Church premises, all over. Because before, we didn't have, we were not conscious of this thing because the Church is in the center of town, so nobody expected this thing that happened to us. It took us by surprise. So that is it. But now, I think we will be conscious of the security. I pray that the government wakes up to its responsibility. Their work is to protect the masses. And we pray that this thing that happened on that day will make government wake up and strengthen their security so that this type of thing will not happen again. That is our prayer. Today our Bishop was talking at the funeral Mass, saying really, the government is not protecting the masses. At this hour, I think what happened shows that really they are not doing their work well. So we pray that this thing that happened will also awaken our government to strengthen their security so that this type of thing will not happen again. Thank you."
The main church building was off-limits to visitors. But I needed a quick tour of the place. I was determined to take photographs. I made a fervent plea to the catechist.
I requested a brief tour of the Church, and my request was accommodated. Everywhere was gloomy, pews left out in the open. There were shattered glasses here and there. There was also a cracked mirror hanging on a wall in the sacristy. The face of the broken mirror was hugely symbolic of the kind of pandemonium that had taken place in the room. A wardrobe lay opened with church vestments, everywhere still in disarray, a framed photograph of young Mass Servers on the wall above it. There was a small dark room with statues on one side of the roomy sacristy, and that had been where the officiating priest had hidden some worshippers. At the same time, they sought help while the attack lasted.
The inside of the Church smelled as though the halls of a hospital. I knew I would not stay inside for long. The heavy air carried the fragrance of antiseptics. The Church was still being washed clean of blood-stained walls, ceiling, tiles, and pews, and the flotsam and jetsam of explosions that rocked it. A used and broken mop rested on a wall behind the altar. Mr. Awolor noticed I was choked by mental images and the smell inside. "The whole place is even better now." He said. "You would not have been able to stand inside for long immediately after the attack. Everywhere was bloody."
I could only imagine the disturbing scenes immediately after the killers left the Church.
The gunmen filled the Church with blood like butchers at an animal slaughterhouse. They acted as though they had been asked to cull and destroy all animals. It was difficult walking the exact grounds where innocent worshippers had died. I felt as though I was walking on the blood of Martyrs of the great universal Catholic faith. I did my tour of the place, said a quick prayer for the dead while standing on the altar, genuflected, and left the building. I wondered when Holy Mass would ever be celebrated at St. Francis Xavier again. The hall was deeply mutilated, both in the material sense and figuratively speaking. It was frightful standing inside, because it felt as though the malignant figure of a gunman was staring at us. It would take some time for the vestiges of the terror attack to leave the place. The whole area needed a sanctification ritual, I thought.
"We have to leave now. I don't have much time." The Catechist said. "I was already leaving when you came into the compound."
I thanked him for the opportunity to look around and apologized for barging into his personal schedules.
I was exiting the church compound when a church worker, Mr. Ndubisi Aloysius, pointed me to a large stain on the ground by the gate. "This is where they shot Sondoko," he said.
"Who was that?" I asked
"He was a very popular sweet seller around here," he said. "Everyone loved him and his sweets."
A bitter feeling came upon my senses, and I shook my head in sadness and stepped over the fading blood stains of yet another hero and martyr who had died in God's house. But was it a crime to have gone to worship God on Pentecost Sunday, the day of the descent of the Holy Spirit? Pentecost was a day of great conversions to the Gospels of Jesus Christ, as the Holy Bible reminds us. One doubts whether God will reject those who went to meet Him in the sacrifice of the Holy Mass. Did Catholics at Owo do any wrong by going to Mass because going to worship God should never be a reason to get killed?
In the words of Matthew Kelly, "the Mass is at the center of Catholic tradition. In truth, there is no problem with the Mass. People of all places and times have found it to be the life-transforming centerpiece of their spiritual lives. It has nothing to do with age. Many people, young and old, still find the Mass to be an experience that provides incredible spiritual comfort and clarity. There are more than a billion Catholics on the planet. The central experience of Catholicism is the Mass, and I believe that we have an obligation together as a Church to engage people."
In Understanding The Mass (2011), Mike Aquilina tells us "what happens at a Catholic Mass": "At every Catholic Mass, the sacrifice of Jesus on the cross is made present on the altar; it is represented, not as a symbol but in reality and in the fullness of truth. That's the short answer."
The author goes further to remind us of "The First Mass":
'Now as they were eating, Jesus took the bread, and blessed, and broke it, and gave it to the disciples and said, "Take, eat; this is my body." And he took a chalice, and when he had given thanks, he gave it to them, saying, "Drink of it, all of you; for this is my blood of the covenant, which is poured out for many for the forgiveness of sins. I tell you I shall not drink again of this fruit of the vine until that day when I drink it new with you in my Father's kingdom." And when they had sung a hymn, they went out to the Mount of Olives. (Mathew 26: 26-30).'
In the book mentioned above, Mike Aquilina writes: "At the Last Supper he gave the apostles explicit instructions to repeat the breaking of the bread and the passing of the cup (see Luke 22:19)."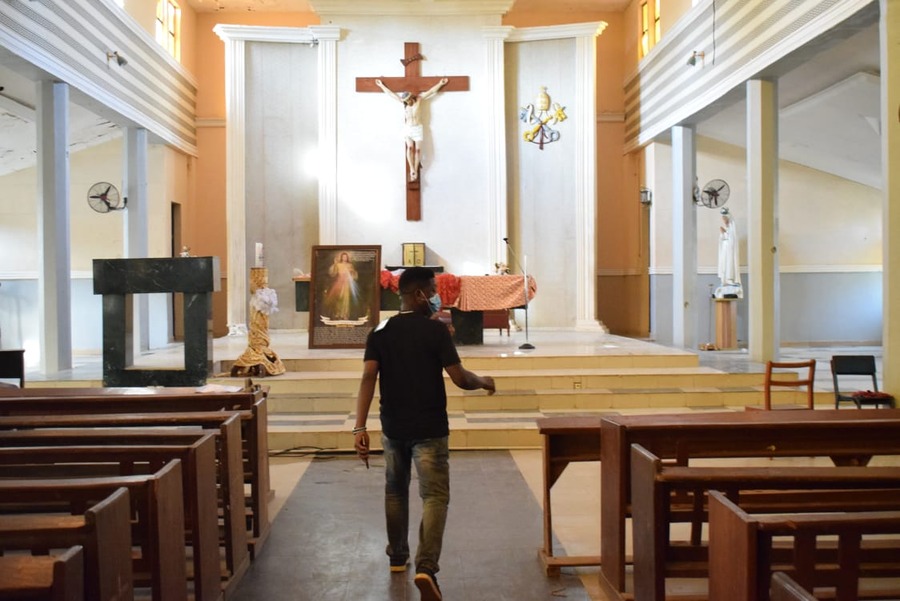 The attackers of June 5 made a futile attempt to break the Catholic faith and instill fear into the town's people. It was indeed a rejection of the Catholic way of peace, of life, of Christian communion. But the Universal Church has survived over the years. It will always do so, despite the graphic existential challenges it now faces in the country. The Church and its people have dynamism and what Matthew Kelly has termed "the genius of Catholicism" in his book, The Four Signs Of A Dynamic Catholic (2012). In this book, the author says that:
"There is genius in Catholicism, but the world doesn't see it that way. Today's secular world rejects the Catholic worldview and instead chooses relativism as its champion. Relativism is the most insidious philosophy of our age. It steals away all meaning from life and in doing so, robs us of the joy God wants us to live with. Joy is simply not possible without meaning."
The terrorists were not God's children, and the attack on the Church rejected God's truth and the people who had chosen to believe in Him freely. The killers had seen no meaning in the lives of others and, in a vicarious sense, no purpose in their own lives. But they were wrong. The attack cannot be justified, not by any religious philosophy, not by any theory, not by any faith or any of its violent strains. Not even relativism can justify the martyrdom of June 5.
Returning to Matthew Kelly's book, we find him quoting the words of His Holiness, "Pope Benedict XVI said this about it: 'Relativism, which considers all opinions true even if they are contradictory, is the greatest problem of our time.' Think about that for a moment. Consider all the problems in the world today, and yet he says relativism is the greatest of all of them."
The Catholic Church is amaranthine and will continue to "grow in holiness," to borrow the valuable words of Matthew Kelly. The Church will flower in radiant blooms despite the blood of martyrs shed in some of the most unimaginable and evil circumstances. The incident at St. Francis Xavier on Pentecost Sunday is not holding the body of Christ back. And for me, St. Francis Xavier, Owo, has since become the Catholic Church of Martyrdom or Catholic Church of Martyrs.
One finds the public tweet of the Executive Editor of the Messenger of St. Anthony magazine, Friar Mario Conte, OFM Conv., fitting for a close. Twitting from the handle @FriarMario, the priest says: "St. Thomas More and St. John Fisher, martyrs and defenders of religious freedom, pray for us."
One can't help but say, amen.
*Images by Aliu Focus.