National Ribbon Skirt Day in Canada is a day that celebrates the beauty and cultural significance of the ribbon skirt, a traditional garment worn by many Indigenous peoples in Canada. Isabella Kulak, a Cree artist and designer based in Toronto, is one of the leading advocates for the promotion and celebration of National Ribbon Skirt Day in Canada.
Several years ago, Ms. Kulak of the Cote First Nation was shamed by a faculty member for wearing her traditional ribbon skirt to school. With her advocating for national awareness of the ribbon skirt and Indigenous culture, she got Bill S-219 passed last month, and the Act Respecting National Ribbon Skirt Day is now law.
The ribbon skirt is a garment that has deep cultural and spiritual significance for many Indigenous peoples in Canada. It symbolizes femininity and strength and is often worn on special occasions such as weddings, powwows, and other cultural events. The skirt is made from long strips of ribbon sewn together and is adorned with intricate beadwork, quillwork, and other decorative elements.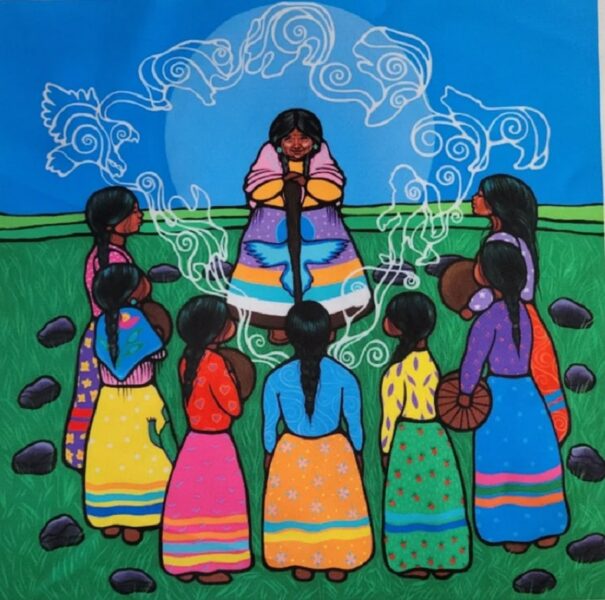 "Indigenous sisterhood is about our shared experiences and knowledge. I love to see our women donning their ribbon skirts with pride. These skirts have revived our nations and our creatives; they are walking storyboards, walking living pieces of art. Sisterhood is about our ties to the community and ceremony, our cultural way of life; a ribbon skirt gifted to a woman who is just learning who she is and where she's from is a great boost to one's sense of self and connectedness." Said Jackie Traverse
Ms. Traverse is a widely acclaimed Canadian painter who has gained recognition for her vibrant and expressive paintings that explore Indigenous culture and identity. One of her most famous works is "Sisterhood," the featured image depicts a group of Indigenous women wearing traditional ribbon skirts.
The painting captures the essence of Indigenous painting and the cultural significance of the ribbon skirt. The vibrant colours and bold brushstrokes convey a sense of pride and strength, and the depiction of the women wearing the ribbon skirts highlights these garments' important role in Indigenous culture.
In addition to "Sisterhood," Jackie Traverse has created a number of other paintings that celebrate Indigenous culture and identity, including works that depict traditional dance and ceremony and portraits of important Indigenous figures. Her work has been exhibited across Canada and proudly hangs in homes across the globe. She has received numerous awards and accolades for her contributions to the art world.
Ms. Traverse and Ms. Kulak have been instrumental in bringing the ribbon skirt to the forefront and opening a dialogue ensuring Indigenous teachings, culture and traditions are understood and respected.
Image credit Jackie Traverse
https://www.jackietraverse.com
https://www.facebook.com/artofjackietraverse