Environment Canada has not officially confirmed Derecho as a tornado and has not released any official statistics or reports
By: Charlotte Hui
Last Saturday, a violent thunderstorm hit southern Ontario and southern and central Quebec, killing ten people and leaving about 400,000 without power. By midday, Environment Canada had issued a warning for the region, saying 130km/h gusts were approaching, accompanied by hail.
This is a dangerous and potentially life-threatening situation," said Environment Canada. "Widespread and powerful wind gusts can destroy buildings with tornado-like damage, flatten large stands of trees and blow vehicles off the road."
Environment and Climate Change Canada defined the thunderstorm as a derecho.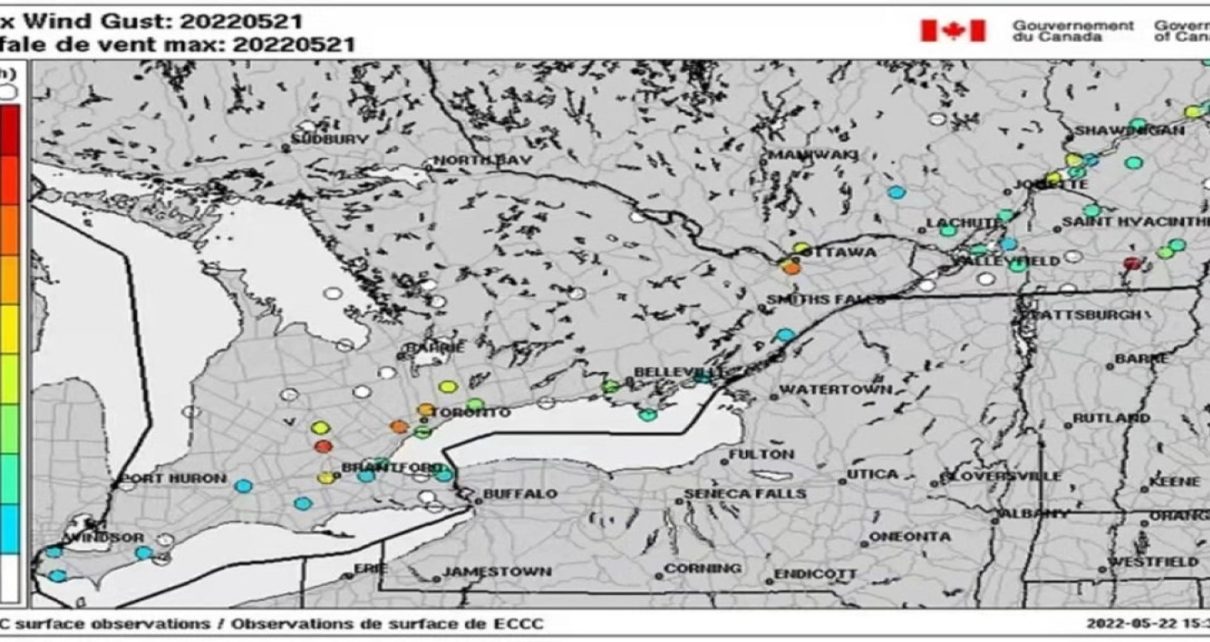 Derechos are fast-moving, long-lived, straight-line wind storms associated with thunderstorms spanning large regions. Winds associated with these systems can be fierce and as powerful as those associated with hurricanes. Tornadoes may also be associated with these fast-moving thunderstorms.
Derecho knocked out power to 350 000 people in Ontario and 500 000 in Quebec, causing extensive damage to trees, power lines, buildings, overturned vehicles, and 2-4cm hail.
An incomplete death toll now stands at ten, including a woman in her 70s killed when a tree fell on Belmont Drive and Birchbank Road in Brampton. A 44-year-old man was struck and killed by a falling tree west of Ottawa; Another 59-year-old man was killed when a tree fell on him at a golf course west of Ottawa; One person was killed, and two others were injured when a tree fell on a camping trailer at Pinehurst Lake. A 74-year-old woman in Port Hope and a 64-year-old woman in Cornwall were killed when a tree fell on them.
"I saw the telephone pole in front of my house fall." Ottawa resident Jeffrey Wang said,
"I have no hot water, no electricity, no signal in my house; I can't contact anyone, they've been working on it for two days, and nothing has come back. There was no electricity in the surrounding restaurants, so I had to take a bus to a friend's house."
Kim Ayotte, General Manager of Ottawa's Emergency and Protective Services, said it takes a few days for Emergency crews to clean up and restore power, "We must all be patient," he said at a news conference Saturday. "Crews are working as fast as they can and as safely as possible."
On Saturday night, Premier Doug Ford offered condolences to the families and friends of the thunderstorm victims, saying, "I am very sad to learn about the tragic deaths of two people in Ontario as a result of the severe weather today. My thoughts go out to both of their families & friends, and I offer condolences on behalf of all Ontarians."
So far, Environment Canada has not officially confirmed it as a tornado and has not released any official statistics or reports.