All passengers were able to walk away from the site of the collision
Last night at approximately 8:30 p.m an articulated Winnipeg Transit bus travelling westbound on Graham, collided with a passenger car travelling northbound on Carlton street. The impact of the collision sent the car sliding a block, where it ended up a few metres from the intersection of Edmonton and Graham.
The road conditions were fairly good but a bit slippery. It is unknown if it was a factor that caused the accident. A witness to the accident immediately called 911 and within a matter of minutes, Fire and Paramedics were on the scene, followed by a slew of transit supervisors, Winnipeg Police and Cadet Units.
Luckily for the people inside the vehicle, their airbags appeared to have been deployed from the impact and the passengers were visibly shaken. The driver and his front-seat passenger both were able to walk away from the accident. The passenger in the backseat appeared to be in physical pain and had told the driver her chest was hurting and was awaiting transport by ambulance to the nearest hospital.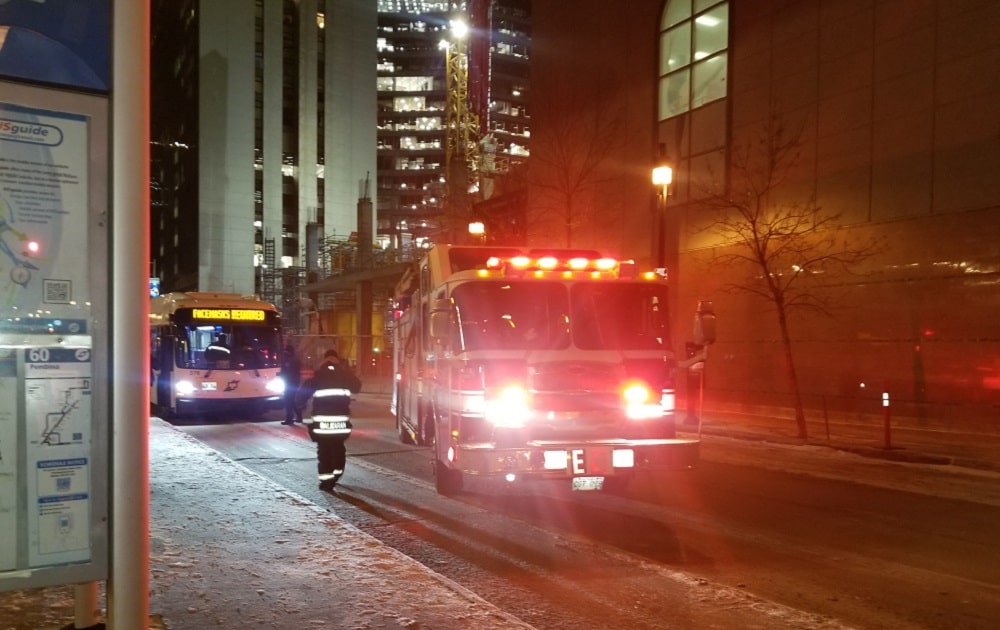 All three passengers were senior citizens on their way to getting their COVID-19 booster shot when the accident occurred. There were a few passengers on the bus at the time of the crash, but it is unknown if they sustained any injuries.
The bus operator was visibly concerned for the passengers on the bus and those involved in the collision. He was very attentive and offered assistance in any way he could. It must have been minutes after the impact that saw several transit supervisors arriving at the crash site.
They had the crash scene contained and buses rerouted almost instantly to avoid any major disruption of service. The supervisors were assisting the passengers on the bus, the ones in the car and the driver. The professionalism and efficiency of the manner transit operated at the scene show a very high level of competence and care.
We hope everyone involved in the crash can make a speedy recovery after such a traumatic event.