Calvin Lugalambi is shocked by the bill he received after a 24-day stay in St. Boniface and Victoria General Hospitals in Winnipeg, Manitoba.
By Maryam Razzaq
Calvin Lugalambi plans to begin classes in Civil Engineering at the University of Manitoba (U of M) this coming fall, after having just completed foundational courses at the International College of Manitoba (ICM).
This past May, Lugalambi says he started to feel extreme abdominal pain after his final winter term at the International College of Manitoba. After going to urgent care at the Victoria General Hospital, he was then transferred to St. Boniface Hospital for emergency surgery for an intestinal obstruction.
Lugalambi was then informed that because he was in between "schools" as he had just wrapped up his semester at the ICM and is due to begin at the U of M this coming fall, his health insurance was expired.
"I said… wow, this is tough. But I said, you know, the only thing I can do is to get help anyway. So run what you need to do, we can deal with that later as I try to… get that sorted," said Lugalambi about the situation.
He continued to explain how it was not made clear to him to purchase additional insurance to cover the summer term between schools.
"I'm a newcomer here. I don't know the rules," said Lugalambi in an interview with CBC News.
The ICM's coverage provider for students, Guard.Me issued an insurance which was dated back two days after Lugalambi was diagnosed with multiple adhesions in his small intestine, but when he requested to have his hospital costs covered, Guard.Me declined through the justification that Lugalambi's condition was pre-existing as he received his diagnosis two days before the gap insurance came into effect.
"I cannot imagine the stress that Mr Lugalambi and his family are going through. If international students stop choosing Manitoba as the preferred destination to enrich their education, our province will be at a greater loss. The consequences of Bill 44 that passed in 2018 by the PC government, which repeals universal health care for international students has left Calvin with a whopping $123,000 medical bill. The financial impact on students since the passing of that bill has been detrimental to their health and studies. Who knows what collateral damage will ensue by the passing of Bill 64 that will further erode Manitoba's education system." Said Dr Uche Nwankwo
Lugalambi contracted COVID-19 while in the care at St. Boniface Hospital and this further worsened his health and extended his hospital stay as his surgery could not be performed until his COVID-19 prognosis improved. St. Boniface has suggested a decade-long payment plan of $1,000 per month to Lugalambi. A plan that Lugalambi cannot afford.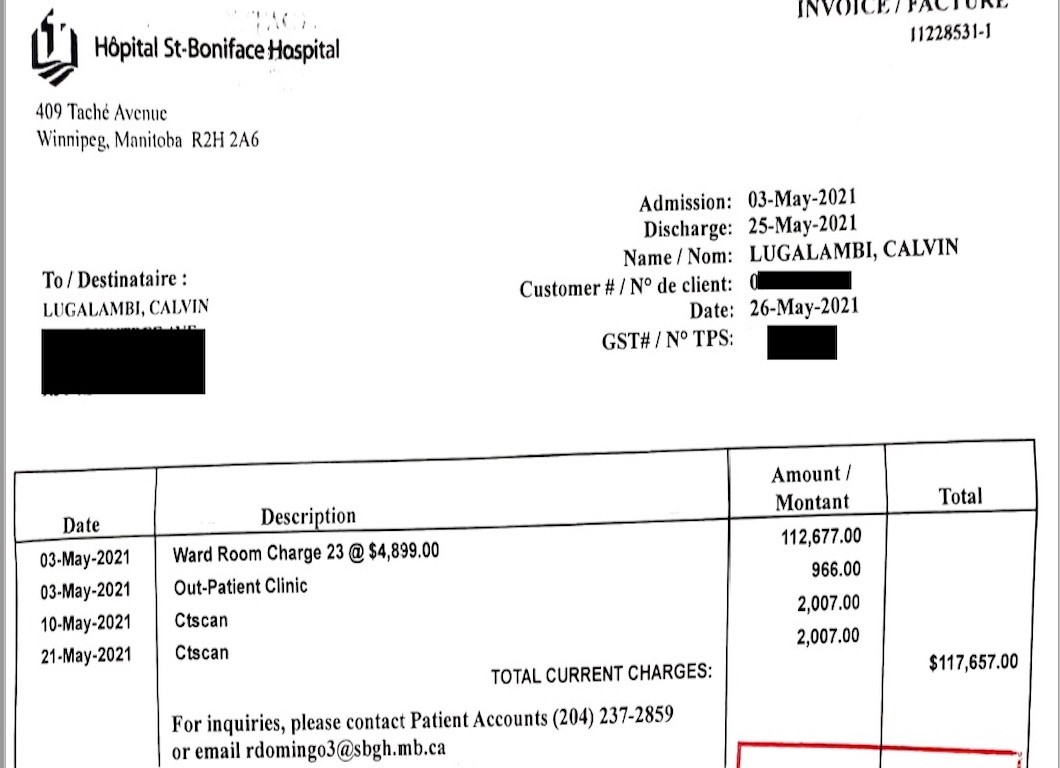 "I have to worry about my next semester — I don't know where that's going to come from. But again, we have to stay positive in hard times. I believe we contribute a lot to this community. I don't want my stay in Canada to be affected by this. I want to finish my education and progress well and be a constructive member of society, as I intended to be," said Lugalambi.
The Canadian Federation of Students, Manitoba (CFSMB) released a statement on the situation.
"Private healthcare insurance for inlt [international] students is inadequate and dangerous. It does not cover all needs and often requires students to pay upfront. Companies like Guard.Me prioritize profits over care and are not a substitute for public healthcare. This particular situation is the result of Manitoba's Progressive Conservative government clawing back MB health cards from intl [international] students to save 3.8 million back in 2018. Intl [international] students were seen as easy targets to reduce budget expenses because of their citizenship status," said the CFSMB.
In 2018, it was estimated by the Manitoba government that international students contribute 400 million a year to the provincial GDP. Manitoba's international students work 4,250 jobs, many of them working as essential workers. Contrary to popular belief, they pay taxes, and pay up to 4 times the tuition when compared to domestic students.
"Healthcare is a human right, and it's shameful that the MB [Manitoba government] has chosen to leave international students outside the public system – especially during the COVID pandemic," said CFSMB.
A friend organized a GoFundMe Fundraiser for Calvin Lugalambi and the community has come together and as of this afternoon, $42,985 of the $126,000 goal has been raised.