Black History Month celebrates historic election of MLA Jamie Moses
On Tuesday, October 1, 2019, I became the first Black person to ever speak in the Manitoba Legislature as a Member of the Legislative Assembly. For the first time, Black people in Manitoba have a voice in the Legislature. Walking into the chamber and seeing a seat with my name on it, is a memory that I won't forget. As the Speaker of the House called on the "Member from St. Vital", I rose to speak and history was made. Nearly 150 years after Manitoba joined Confederation, not only was history was made in Manitoba, but it has opened the doors for next generation of history makers.
That day my Members' Statement was about the ground-breaking Inez Stevenson. Inez Stevenson is credited as the first Black elected official in Manitoba. She was elected as a school trustee in the Winnipeg School Division in 1974. My work as an MLA and future success of other Black people in Manitoba was predicated on trailblazers like Inez Stevenson, whose accomplishments I continue to build on. Her pioneering role in our province set the table for people like myself to find success.
There is a long history of Black people in Manitoba, like Inez Stevenson, whose work may not have been shared and whose stories may not have been told. This includes Black people working as sleeping car porters for CP rail over 100 years ago. This also includes Black people that worked in Manitoba during the fur trade. While this history is, unfortunately, less told, it is not less valuable. It is so important to recognize these stories for the accomplishments that they are, but also so that young people can see these examples to give themselves the confidence to value themselves and their work.
In my own journey, as a young person growing up in a mostly white neighbourhood and school in Winnipeg, it was impossible not to struggle with confidence or to question your self-worth to some extent. Without many visible role models that looked like me, it was hard to dream any bigger than what I could see. Having a strong family that I could look up to helped me gain the confidence to meet the challenges of growing up as a Black person in Winnipeg. Before I even entered politics, I volunteered in my neighbourhood and saw the impact that government policy had on my local community. Seeing that, along with knowing that having a Black person as an MLA would be an inspiration to people; were both strong motivators for me to put my name forward in the election.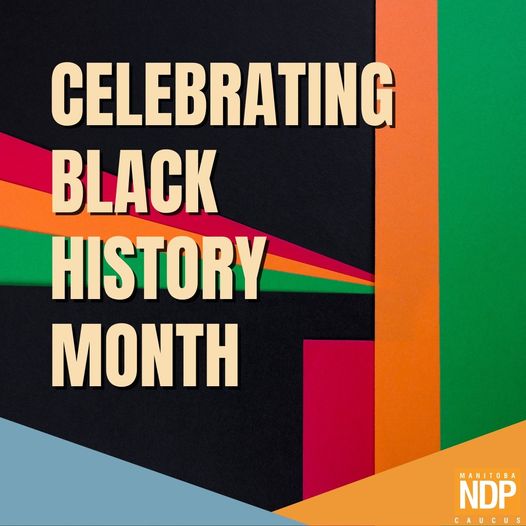 On election night, a few weeks before I first spoke in the Legislature, I watched the results as they were coming in. As a candidate, in that moment there is nothing that you can do – the fate of your next four years is determined already, you just haven't found out. It is certainly a stressful time, waiting in anticipation. My thoughts naturally centred around my family and the campaign team and all the work that we put in over the past several months. I am immensely grateful for all of their hard work. I also thought about all those in the past who were unsuccessful in their attempts to break through this barrier. As I slowly saw more and more results show that victory was in sight, yes, I thought about the history that was being made, but what I really thought about was the doors this would open up for other people in the future.
As an MLA, I want to give young people the role model in politics that I never had so that they can break even more ground in the future. I also want to make the path more equal for Black people and people of colour to achieve their goals by promoting anti-racism and equality in Manitoba. One of the ways that I'm doing this is with Bill 212 which I have introduced called "The Mandatory Training for Provincial Employees (Systemic Racism and Human Rights) Act". This legislation would require all provincial employees to complete annual anti-racism training. Bill 212, if passed, would be a step toward addressing systemic racism.
We should all be proud that we now have Black MLAs in Manitoba, but the fact that it is ground-breaking does not mean that the summit of the mountain of equality has been reached. This is simply the next step we climb on the path. We take a step on this path every time we learn and teach others about Black History in Canada. We take a step every time we understand the lesson in that history and incorporate it into our own lives. We take a step when that history inspires and motivates us to take action in promoting anti-racism and equality in our communities.
This Black History Month I encourage you to learn the history, live the history and go out and make your own history.
Honourable MLA for St. Vital Jamie.Moses@yourmanitoba.ca