Trump and COVID-19 Task Force M.I.A

As COVID-19 death tolls rise to record levels and the virus continues to see daily reported infections surpassing 100,000, Trump has been M.I.A. Prior to the election, the embattled president downplayed the virus and dismissed the scientists. With the election of Joe Biden, the President now spends his time filing phony lawsuits instead of assisting with the peaceful transition of power.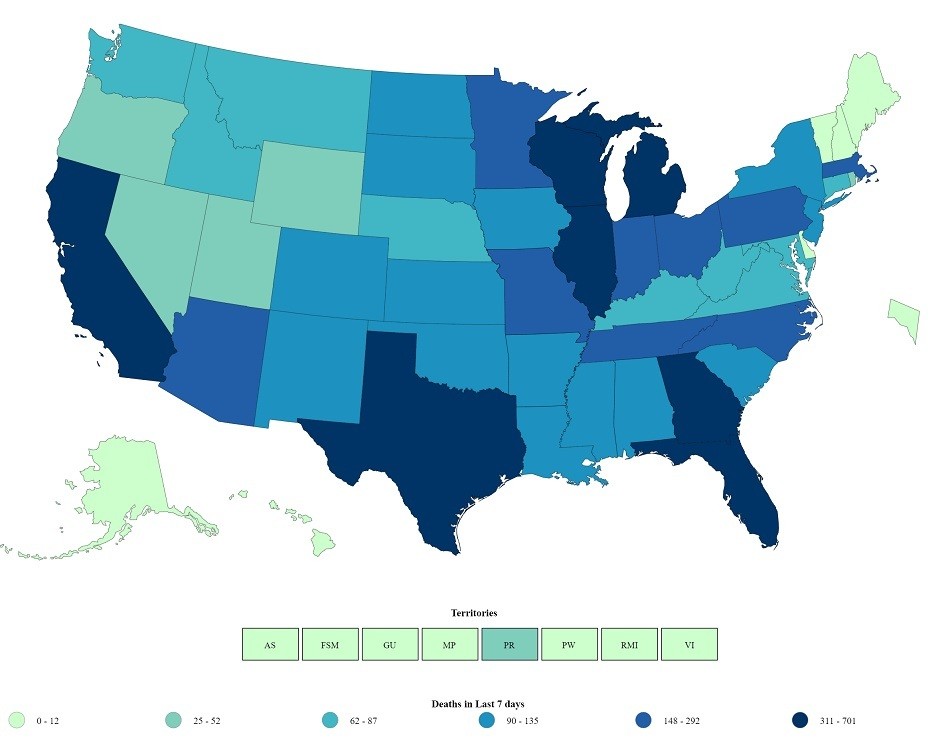 There are no words that can comprehend the carnage caused by the Trump administration's failure to handle the virus, so we have decided to show our readers in pictures.

| US State/Territory | Deaths in Last 7 Days |
| --- | --- |
| Georgia | 701 |
| Texas | 669 |
| Illinois | 484 |
| Florida | 358 |
| Michigan | 333 |
| California | 315 |
| Wisconsin | 311 |
| Indiana | 292 |
| Missouri | 235 |
| Pennsylvania | 231 |
| Tennessee | 218 |
| North Carolina | 203 |
| Minnesota | 199 |
| Ohio | 174 |
| Arizona | 172 |
| Massachusetts | 148 |
| Kansas | 135 |
| Alabama | 133 |
| North Dakota | 118 |
| Colorado | 116 |
| Oklahoma | 114 |
| Arkansas | 109 |
| Iowa | 109 |
| New York* | 109 |
| Louisiana | 107 |
| Mississippi | 100 |
| New Mexico | 99 |
| South Carolina | 94 |
| South Dakota | 94 |
| New Jersey | 90 |
| Kentucky | 87 |
| Washington | 82 |
| Maryland | 77 |
| West Virginia | 77 |
| Connecticut | 73 |
| Nebraska | 70 |
| Virginia | 70 |
| Idaho | 67 |
| Montana | 63 |
| New York City* | 62 |
| Nevada | 52 |
| Utah | 52 |
| Puerto Rico | 51 |
| Oregon | 36 |
| Wyoming | 34 |
| Rhode Island | 25 |
| Delaware | 12 |
| Guam | 11 |
| District of Columbia | 10 |
| Alaska | 8 |
| Maine | 8 |
| New Hampshire | 6 |
| Hawaii | 3 |
| Virgin Islands | 1 |
| Vermont | 1 |
| American Samoa | 0 |
| Federated States of Micronesia | 0 |
| Northern Mariana Islands | 0 |
| Palau | 0 |
| Republic of Marshall Islands | 0 |