Fatal Snowbird accident takes life of Captain Jennifer Casey. Cptn. MacDougall, team coordinator also injured
One member of the Canadian Armed Forces (CAF) was killed on Sunday May 17, 2020 and one other member injured in an accident involving a Royal Canadian Air Force (RCAF) CT-114 Tutor aircraft in the vicinity of Kamloops, British Columbia.
Killed was Captain Jennifer Casey, the team's Public Affairs Officer, originally from Halifax, Nova Scotia.
Captain Richard MacDougall, one of the team's coordinators and pilot of the aircraft, was injured and is being treated for his injuries.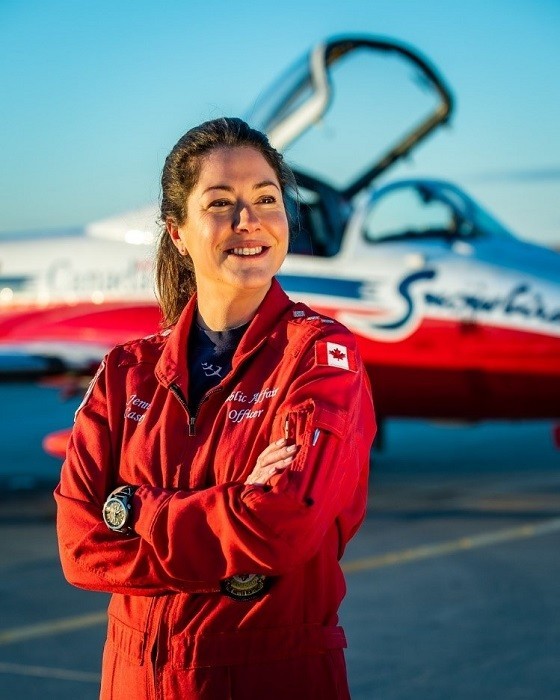 The Canadian Forces Snowbirds were deployed on Operation INSPIRATION, a cross-Canada tour to lift the spirits of Canadians and salute front-line workers during the COVID-19 pandemic. At the time of the accident, the CF Snowbirds were taking off from the airport in Kamloops, British Columbia.
"I was deeply saddened to learn of the loss of one of our Canadian Armed Forces members in a tragic incident involving one of our Snowbirds' aircraft in Kamloops, British Columbia. I am sending my sincerest condolences to the family, friends and colleagues of Captain Jenn Casey. I am also wishing a rapid and complete recovery for Captain Richard MacDougall.
Canadians look at the Snowbirds as a source of joy and an exhibition of the incredible feats that our people in uniform are capable of. Operation INSPIRATION was intended to lift the spirit of Canadians at this difficult time and the Snowbirds accomplished their mission. I know that all Canadians grieve this tragic loss." The Honourable Harjit S. Sajjan, Minister of National Defence.
The CAF are providing our members and their families with as much support as possible to help them through this difficult time.
A RCAF Flight Safety team will depart from Ottawa shortly to investigate the circumstances of the accident and will begin their work immediately upon arrival.
Also, Worth Reading
Japan: Introduce LGBT Non-Discrimination Law